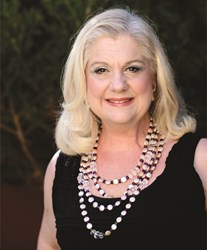 Napa, CA (PRWEB) July 31, 2013
Specifically geared for Boomer women, an upscale, on-line shopping experience featuring designer lifestyle accessories have just been launched by UMANO Inc at http://www.barbarabacigalupi.com. Everything - from the products for sale, to the graphics and written content - has been orchestrated by a Boomer for her counterparts in the fifty-plus age category.
Self-described archetype Boomer Barbara Bacigalupi, found herself wanting more from many on-line shopping sites that have been formulated by young, tech-raised Millennials, and in reaction, chose a "designed by a Boomer for fellow Boomers" approach to communicate her upscale design products on the Internet.
"Boomers represent the first generation of women to have achieved unprecedented levels of advanced education, allowing them to reach higher and higher into positions of business and political leadership, as well as entrepreneurship. They are smarter, more savvy, cultured in the arts, and well experienced in all that life has to offer," comments Bacigalupi, who in addition to having a multifaceted career as a strategic vision business consultant and personal growth author, has added a parallel career designing home and lifestyle accessories.
"When I go about designing an on-line store, I really am in many ways, simply engaging in a conversation with myself about the things I love," continues Bacigalupi. "That's because I eat, breathe and sleep the life of a Boomer woman, and so intrinsically understand how we perceive ourselves and what we consider important. Right now, Boomer women like myself are reaching their most critical personal juncture, tackling the daunting question of how each of us will summarize our life in ways that will have lasting affect on the quality of life and human values for coming generations," concludes Bacigalupi.
The architecture of the resulting site demonstrates how this viewpoint plays out. First, all product focuses on tangible collectibles fashioned from semiprecious gemstones and luscious silks. These home decor and jewelry art objects are lovingly made by hand in the USA, more specifically the San Francisco Bay Area. Their unmistakable quality and substance make them worthy of giving to children and grandchildren as a way to sharing life with coming generations. This emphasis on products with meaning and value is further increased by having accompanying story cards written by Bacigalupi that specifically relate products to our humanity.
Repeatedly, research studies have demonstrated that Boomers prefer content-rich websites and opportunities to research products before purchase. The Bacigalupi site reflects these preferences by extending content well beyond the usual product photos and factual descriptions that foster fast decision-making. Instead, product lines come with a wealth of stories about their genesis, factual background summaries, and specific exercises for relaxation. As much emphasis is placed on learning as is placed on the products themselves, with the intention of building a special kind of brand identification and purchasing loyalty tailor-made for Boomers.
A specific example of the intensive integration of content and product is Bacigalupi's hallmark product line of TRULYHUMANmedallions. This "Jewelry for the Home to Inspire the Spirit" features carved medallions representing time-honored symbols from Eastern or Western cultures, surrounded by semiprecious gemstones. Finished with tassels for texture, and embellished with loops for hanging, they serve as decorative accessories on doors knobs, pulls, candles, vases and more. Stories about the important human values symbolized by the medallions, such as love, peace, friendship, or creativity, accompany each.
At BarbaraBacigalupi.com, TRULYHUMANmedallions are presented with these opportunities for learning: a personal story from Barbara about how life experience led to the line's creation, the full text of the story card that accompanies each style, an overview of the key gemstones used, a discussion of the history of the tassel, instructions for using TRULYHUMANmedallions as part of a Daily Practice as well as in self-directed visioning exercises, and a flipbook magazine showing creative ideas for using TRULYHUMANmedallions in home decor.
Currently, the site is in the process of unveiling all of the design lines created by Bacigalupi. Soon blogs will be added, while long-term site development plans call for a gallery of curated artists whose work embodies the site's philosophy. For a limited time only, all products will be offered at special value pricing that is well below retail. In addition, customers will collect bonus points which will lead to a soon-to-be-announced loyalty program offering special purchases and gifts.
Barbara Bacigalupi is a Northern California native and Napa Valley resident who as a nationally recognized strategic vision consultant has spent her business career advising professional practices and nonprofit organizations led by Traditionalists and Boomers. Her consulting processes help them to understand how to chart a more successful future by learning to embrace change in the context of understanding ever-evolving consumer dynamics. She is the author of Truly Human - An invitation to think in new and powerful ways, (http://www.TrulyHuman.com) which makes a case statement for conceptual thinking and self-directed visioning to create a better life. Her parallel career in design is a vehicle for reinforcing human values through the inherent beauty found in nature and the work of the human hand. Educated as a scientist at University of California, Berkeley, she employs this perspective to frame all the work she accomplishes.
About The Company
The website and on-line store at BarbaraBacigalupi.com are sponsored by its parent company, UMANO Inc., which was founded in San Francisco in 1997 and named for the Italian word meaning human, humane and compassionate. As a concept-driven company, its purpose is to serve as a vehicle for the publication of both Bacigalupi's motivational writings and the production of her designs. These products are made by hand in Northern California using components collected from around the world, and all include learning messages written by Bacigalupi to encourage the achievement of positive human values.