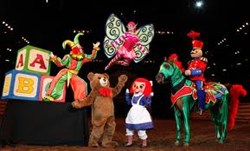 We love Dixie Stampede! The food is delicious! The pre-show is worth the price of admission - the real show is spectacular. Both are great, but we prefer the Christmas show. It's become a family tradition.
Branson, Missouri (PRWEB) July 31, 2013
The Dixie Stampede Dinner Attraction transforms each year into a beautiful Christmas spectacular. Branson Ticket & Travel's guests who visit Dixie Stampede will be amazed at the unbelievable makeover including the full-scale living Nativity, holiday decorations, music, a visit from Santa, and a four-course yuletide feast.
Families are mesmerized as "Toys Come to Life," an amazing musical fantasy. One Christmas night, the Sugar Plum Fairy appears in a sleepy toyshop and magically brings all the toys to life in a musical celebration. Highlighted by a stunning aerial display and set to the unforgettable music of the Nutcracker, that will delight the kid in you and every member of your family.
To purchase tickets online, click here.
"Christmas is my favorite time of year, full of fond family memories," says owner, Dolly Parton. "We celebrate the true meaning of Christmas. I can't wait for folks to experience this special holiday show - it's going to be magical."
Christmas at Dixie features a seasonal twist with a friendly rivalry between the North and South Poles, full of equestrian feats, music, comedy, and audience participation. Celebrating the true meaning of Christmas, the birth of Jesus is brought to life with Mary, Joseph, the wise men, and a living Nativity of live camels, donkeys, and sheep. No Christmas would be complete without an appearance by Santa himself in his sleigh, as Dixie's 1100-seat arena is transformed into a winter wonderland of fresh fallen snow.
The entire Christmas celebration is complemented by a four-course holiday feast of a whole rotisserie chicken, hickory smoked barbecue pork loin, herb-basted potato, buttery corn on the cob, creamy vegetable soup, hot homemade biscuit, and special holiday dessert.
To request a free showguide & Branson vacation planner, click here or call 1-800-432-4202.
Christmas At Dixie Stampede runs November 1st through December 28th, 2013. One ticket price includes a unique holiday dinner and show experience set in a giant 35,000-square-foot arena featuring 32 magnificent horses, a stampede of buffalo, thrilling horsemanship, romance, and audience participation, all showcased in a friendly rivalry between North and South and complemented by a fabulous four-course holiday feast.
Dixie Stampede Dinner Attractions operate in two popular vacation destinations: Pigeon Forge, Tennessee and Branson, Missouri. They also operate Pirates Voyage; Fun, Feast & Adventure in Myrtle Beach, SC. For more information regarding show times and ticket prices, call 1-800-432-4202.