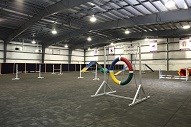 Rochester, NY (PRWEB) July 31, 2013
Boom Towne is the premier dog boarding, grooming, training and daycare serving Rochester New York and the surrounding area. Boom Towne's 13,000 square foot indoor and 8.5 acres outdoor dog training facility is the largest in New York state. Private lessons and daytime or evening group classes available.
Boom Towne also features verdant artificial turf in the daycare and boarding areas, so dogs feel like they are running freely through a true grassy area. This August, Boom Towne will feature a handful of super exciting activities for dogs and their human lovers. Here is what is scheduled to take place on Boom Towne's immense canine campus.
Dr. Sophia Yin, DVM, MS, is an up-and-coming veterinarian and applied animal behaviorist. Her decades of experience entail the publication of several books and textbooks, including Perfect Puppy in 7 Days and How to Behave So Your Dog Behaves.
Dr. Yin has served as en expert consultant for Animal Planet, and she sits on the executive board for the American Veterinary Society of Animal Behavior. On August 10th and 11th, from 9-5 each day, Dr. Yin will focus on training and teaching techniques to help owners overcome a variety of obedience and behavioral issues/challenges regarding their dogs. A must-attend.
August 12th-16th brings the second summer session of Camp Wannawalkadog. This is a dream opportunity that allows kids to bring their dogs with them to camp. Traditional summer camp activities are interspersed with dog-related fun:

Dog Crafts: A dog-oriented arts & craft project each day.
Dog History: All about dog behavior and how to improve communication with all dogs but especially one's own.
Agility: How to teach dogs the finer points of running through tunnels, tires and making jumps.
Canine Good Citizens: Tips on how to handle their dog in public situations and the importance of responsible pet ownership.
Snacks and drinks are provided each day for each child as is fresh water for all dogs.
August 24th is all about the 4th Annual Fido Fest. There will be tons of fun, live music, food, recreational activities and mini events for kids, and a variety of canine sports demonstrations:
Flyball
Agility
Rally-O
Dancing with Woofs
Weight Pulling
Fido Fest is a wonderful way for families and children to strengthen bonds with their pets, meet other dog lovers, and socialize in a fun setting with other enthusiastic dog breeds. Fido Fest proceeds will support local rescue groups.
All events will take place on the Boom Towne Canine Campus, nestled in the picturesque Finger Lakes region near Geneva and Canandaigua. Considered rising star wine country, Geneva and Canandaigua are riddled with gorges and are in proximity to both Seneca and Cayuga Lakes.
When not hosting amazing events, Boom Towne offers year round boarding, daycare, grooming 7 days per week, training, and ongoing seminars. Attending one of the above is a wonderful way to experience the full effect of Boom Towne in person.