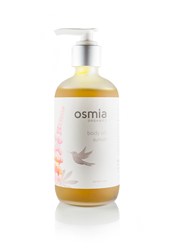 We're on a mission to convert the world to body oil instead of body lotion - try it our way, and we doubt you'll go back.
Carbondale, CO (PRWEB) July 31, 2013
In a new article published today on the Osmia Organics website, green skin care expert, Dr. Sarah Villafranco, explains the general advantages of using body oil instead of cream or lotion and details the beneficial properties of the 11 plant oils she uses in her body care line.
The article begins by reviewing the basic chemical structure of a body lotion, and the use of emulsifiers. Dr. Villafranco elucidates the purpose of emulsifiers, as well as a bit of their history in the industry. As we see the rise of a more educated class of consumers, increasingly concerned with toxins in their food and products, the personal care industry has responded with more natural options. Villafranco mentions some of the specific environmental effects of traditional personal care chemicals and processes, and lists some less toxic options. Her argument regarding body oils is that they are a zero-toxin option, and one that we should all be incorporating into our skin care habits.
In addition to the ecological and toxicity-related points, Dr. Villafranco also makes the argument that a body oil - as opposed to a lotion - can be more budget-friendly. Body oils typically last longer than lotions, especially when used on wet skin. They are less susceptible to contamination, which would result in having to throw the product away before it has been completely used. They also have less need for preservation, and, as a result, can focus on the more potent, active ingredients with proven skin benefits. By not paying for the water component that constitutes 70% of most lotions, the consumer can save money.
The article then goes on to describe the attributes of each of the plant oils used in Osmia's collection. Each variety is named after an element of nature, and contains a uniquely combined selection of organic and wild-harvested essential oils and extracts to provide its scent. All of the scents, however, start with the same base oil. This base combination, comprising 11 plant-derived oils chosen for their skin care benefits and texture, is available on its own as the "Unscented" option. Specifically, the article elucidates the benefits of the following oils: coconut oil, jojoba oil, kukui nut oil, sweet almond oil, rosehip seed oil, hemp seed oil, avocado oil, borage seed oil, evening primrose oil, sea buckthorn berry extract and rosemary antioxidant.
The Osmia Organics body care collection intentionally chooses powerhouse ingredients, high in vitamins, antioxidants, and anti-inflammatory components that provide the skin with essential nutrients. "At Osmia, we advocate for the use of oils instead of lotions because it eliminates unnecessary chemicals, and, when used correctly, provides better short and long term results," explains Dr. Villafranco.
To read more about the the benefits of switching from lotion to oil, and to learn about the ingredients used in Osmia's oil line, visit http://www.osmiaorganics.com.