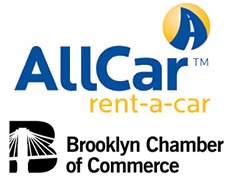 Even as a mature company, we still see the benefits of Chamber membership regularly here at AllCar
(PRWEB) July 31, 2013
AllCar Rent-A-Car announced today that they would be renewing their membership to the Brooklyn Chamber of Commerce. This will mark the 8th year that the company has been involved in the organization, which promotes economic development across the borough.
"We've always been firm believers in the power of community and engagement," explains Nathan Isherwood, the company's Director of Marketing. "The Chamber's mission of promoting healthy, robust businesses in Brooklyn is very much in line with our own views on corporate social responsibility. Maintaining our membership made complete sense."
Founded in 1918, the Brooklyn Chamber of Commerce has always been a modern organization that speaks to the needs of Brooklyn's business community. Located on Adams Street in the heart of Brooklyn, the Chamber of Commerce serves as a resource for new and established businesses in the local community.
"Even as a mature company, we still see the benefits of Chamber membership regularly here at AllCar," says Isherwood.
"We would like to thank AllCar Rent-A-Car not only for renewing their membership, but for being such a great supporter of the Brooklyn Chamber of Commerce over the years," said Carlo A. Scissura, President & CEO, Brooklyn Chamber of Commerce. "AllCar represents one of the borough's most successful small businesses, something we Brooklynites are very proud of. AllCar has been in business for 30 years and has enjoyed tremendous success over that time. Thank you Gil Cygler, a member of our board and supporter of the Brooklyn Chamber, for helping us in our mission to help small businesses and grow the borough's economy."
As one of the largest independent car rental providers in the borough, AllCar relies on the Brooklyn Chamber of Commerce for a variety of local networking and promotional purposes. The Chamber also functions as the voice of the Brooklyn business community, providing local business owners with the tools they need to launch, thrive, and grow in Brooklyn.
As a member of the Chamber of Commerce's Board of Directors, AllCar's President Gil Cygler, has seen the power of Chamber relationships firsthand. "The Chamber actively advocates on behalf of the Brooklyn business community about issue that will further the economic, social, and business climate of our community. As such, members have the ability to directly impact important policy decisions."
AllCar Rent-A-Car is proud to be a major corporate sponsor of the Brooklyn Chamber of Commerce. Brooklyn business owners can learn more about membership benefits on the organization's official website at http://www.ibrooklyn.com.
About AllCar Rent-A-Car
AllCar Rent-A-Car is New York City's premiere rental company. With 12 locations throughout the five boroughs, AllCar is focused on providing the highest quality car rental experience in New York. Book your rental online today at http://reservations.allcarrentacar.com/.