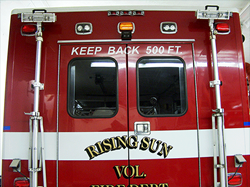 Very few manufacturers produce waterproof back-up camera systems that have this rating and level of reliability
Byron Center, Michigan (PRWEB) July 31, 2013
PRO-VISION Video Systems, the country's fastest-growing mobile video system manufacturer, announces substantial upgrades to their rugged, reliable lineup of waterproof back-up camera systems. Although PRO-VISION has had waterproof cameras for years, the lineup was recently rated IP69K, the highest rating of resistance available against solids and high-pressure liquids." Very few manufacturers produce waterproof back-up camera systems that have this rating and level of reliability," said Marketing Manager Sam Lehnert.
Designed with optional chrome housings and to thrive in the most extreme climates and applications, PRO-VISION's fire truck and ambulance truck back-up camera systems combine side and rear vision cameras to give multiple views that will eliminate dangerous blind spots, reducing accidents, insurance and liability costs. Combined with the absolute-best warranty in the industry—¬5 Years—regardless of where you bought your system or who installed it, no fire truck or ambulance is complete without a PRO-VISION Video System. Visit seeingissafety.com or call 800-576-1126 to get a demonstration or order today.
About PRO-VISION – In 2003, PRO-VISION was incorporated and started by supplying back-up camera systems. 2005 marked their entry into the School Bus market. By 2011, the company had expanded into a 240% larger facility and entered the law enforcement recording system market. The company has expanded to the international market selling systems into countries such as South Africa, Great Britain, Australia, Mexico, and Brazil, to name a few. PRO-VISION is ranked in the top 100 manufacturing firms on the Inc. 5000 list of fastest-growing private companies in America for 2012, and also earned a spot on the list in 2011.