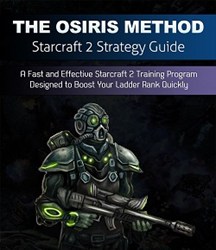 (PRWEB) July 31, 2013
The Osiris Method has just released a new version of their highly popular Starcraft 2 strategy guide. This new version of the guide marks the first update since its release back in May of 2013. This new version of the guide makes several changes to the original version of The Osiris Method.
First, and of greatest interest to most players, the new version has been updated to account for the recent Starcraft 2 balance patch (2.0.9) that changed the strength of Hellbats in the early game. The effectiveness of very early Hellbat drops has been reduced by this balance patch. Given that The Osiris Method emphasized the effectiveness of these early drops (particularly in Terran versus Terran games), the guide has now been updated to account for these balance changes.
In addition to strategy changes based on Starcraft 2 balance patches, the guide has been subjected to a second round of editing. The recommended Zerg versus Protoss build order contained an error that has now been corrected. A few strategies that used to work in the early phases of Heart of the Swarm that have been since patched over or phased out have been removed or corrected as well. Finally, minor grammatical and spacing changes were implemented that were not caught in the first round of editing.
About The Osiris Method
The Osiris Method is a cutting edge Starcraft 2 strategy guide. Rather than just providing a guide, The Osiris Method can be likened to a training regimen. Unlike other strategy guides that cover general tactics and strategy and leave it up to the player to incorporate these tactics, The Osiris Method focuses on implementation and hands-on practice and directs the player in their quest for skill improvement in a step-by-step process.
This rigorous training method is capable of significantly improving win rate by increasing player efficiency as a priority rather than strategy and understanding. While having a strong grasp of strategy is important and sounds great on paper, too many guides and players alike forget that timing is the most important aspect of Starcraft 2. Poor strategies executed with great timing will often work, whereas great strategies that are too slow never work. Based on these findings, The Osiris Method focuses on how to teach players to be fast and efficient as a priority.
Version 1.1 of The Osiris Method is now available for download. Visit the site by clicking here to access the latest edition of The Osiris Method.