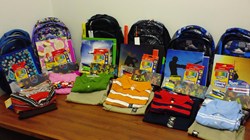 Bristol, CT (PRWEB) July 31, 2013
Conveyco, an integrator of Automated Material Handling Systems and Design Build Solutions, announces that it will be partnering with the United Way this school year to help provide local children with school supplies and an outfit for the first day of school.
The United Way of West Central CT's Adopt-A-Child Back to School Program helps to provide local children with garments and the school supplies they will need to start the year off right. In late summer, Conveyco is provided with a list of school supplies that each child needs, their particular clothing size, favorite color, and the child's unique interests. Conveyco then uses this information to purchase items and create a backpack filled with items that are tailored to each child's personality.
Conveyco's team and a matching gift by the company have allowed several additional children to be presented a full backpack for the 2013 campaign. "Each year we look forward to helping out the United Way through many different opportunities such as the Back to School Program, Thanksgiving Food Drive, and Joy of Sharing Donation," says Victoria Wollenberg, Business Development Coordinator at Conveyco. "The response from the team is always impressive and a testament to the group of people that we have and our organizational commitment to giving back to the communities in which we live and work."
Conveyco and its employees pride themselves on helping to support the community and will continue to LIVE UNITED!
Conveyco (http://www.conveyco.com), a material handling systems integrator, with a team of best-in-class engineering talent, works closely with its supply chain clients to design original, reliable, street-smart solutions that help them overcome their toughest challenges in the movement, storage, control and protection of materials and goods throughout their manufacturing and distribution operations. From problem definition to implementation, Conveyco's collaborative work ethic enables its clients to achieve their goals for enhanced profitability and to compete more successfully within their industries.