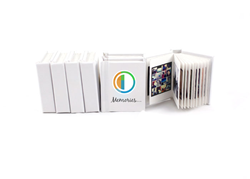 Manhattan Beach, CA (PRWEB) July 31, 2013
Capsule, the mobile and web app that helps groups plan, share, and remember their shared experiences, is now offering an assorted line of photo print products including Tinybooks. Through their free mobile app, CapsuleCam, users can order photo prints at Walgreens and design custom postcards. While online, guests can purchase individual photo prints, custom info cards for the big day, and signature Tinybooks.
Tinybooks are a lot of memories in a tiny book. As a mini photo album, Tinybooks have room for 24 select photos bound by a thick magnetic cover. Each book has outstanding photo quality that makes it a great gift for your friends and family following a wonderful trip, party, wedding, and more. Tinybooks come in packages of three and are the perfect addition to the family fridge.
"We see Capsule Tinybooks being the new big thing in the thank-you gift, party favor and souvenir market. Instead of one photo on the fridge, we give you 24!" remarks CEO and Co-Founder, Cyrus Farudi.
About Capsule
Capsule (http://www.tryCapsule.com) is the easiest way to capture every photo taken at a wedding. CapsuleCam, the mobile app for iPhone and Android, lets guests add wedding photos to a shared, central wedding album instantly with no uploading required. Capsule members can interact, comment, order prints, download high-resolution copies and share to social networks directly from the wedding photo gallery. Unlike other wedding apps, Capsule is also designed for all the events surrounding the big day, including the engagement party, bachelor/bachelorette party, bridal shower and honeymoon.
For more information or to check out featured wedding photos, visit tryCapsule.com or find us on Facebook (facebook.com/tryCapsule), Pinterest (pinterest.com/tryCapsule) or Twitter (twitter.com/tryCapsule).