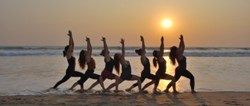 New York, NY (PRWEB) July 31, 2013
Drishti Yoga Teacher Training today announced the launch of a new website featuring Yoga certifications and vacations in exotic locations. The organization provides an educational and transformative experience for students while exposing them to cultures from around the world.
Limited spots are still available for upcoming programs in Italy, Thailand, Costa Rica, India, Peru, and Greece to study Yoga in depth. Through the practice of Yoga, Drishti strives to transcend limiting beliefs of cultural and national differences and connect the international community with a focus on the fundamentals of life.
"When we practice and share Yoga abroad we have an opportunity to go beyond artificial separations and connect to one another spiritually rather than making judgments based on our citizenship," says Dristhi co-founder Sarah Walsh. "We are thrilled to be launching this new website to help us connect more deeply with the global Yoga community."
The new Drishti Yoga Teacher Training website includes testimonials from past students, detailed information about upcoming trainings and retreats, and an interactive blog featuring Yoga adjustments, traveling tips, and healthy recipes. "The blog is an exciting way to interact with the digital community," says co-founder Carri Uranga. "Part of the fulfillment I get from facilitating the personal growth of our students comes from the lessons they teach me. The blog continues to enable that interaction in meaningful ways beyond the trainings."
Through this website, the growing Drishti network continues to reach out and provide an informative experience that is sure to impact the self and beyond, one Yoga Pose at a time.
About Drishti Yoga Teacher Training
Discover the impact of intimate personal attention combined with focused training in exotic locations with Drishti Yoga Teacher Training. Combine your passion for Yoga and your love of travel to create a transformative experience on and off the mat.
Upcoming trainings will be held in:
Italy from October 3rd – 27th,
New York City from November-December
Thailand from February 5th- March 1st
Costa Rica from March 23rd- April 15th
For detailed information on these trainings and to find how else Drishti is making a ripple effect in the Global Yoga Community visit us at drishtiyogateachertraining.com