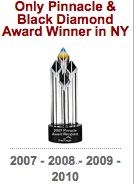 too many consumers were being taken advantage of and the information simply doesn't exist to assist patients in making informed decisions
(PRWEB) July 31, 2013
Thermage is the leading body shaping and skin tightening procedure backed by over 12 years of results. Breaking all of the rules Dr. Zdinak offers her free report without even giving your email address. Details like the color coding of the boxes revealing the number of pulses and the value of your treatment and pages of insider information. As New York's only Pinnacle and Black Diamond Award winner, every year since 2007 Dr. Zdinak knows pretty much everything there is to know about Thermage face lifting and body treatments. Dr. Zdinak's practice, Precision Aesthetics, has always been the first with every new device, software and every upgrade for the past 6 years. As a result people travel from literally every country in the world to do their Thermage at Precision Aesthetics. When Dr. Lisa, as her patients, fondly call her first wrote this report it was suggested to sell it for more than $100 since it was literally a step by step guide to insure you received the best treatment that could cost five or even ten thousand or more for thermage body treatment depending on the number of body areas being treated. But in the end it was decided to give the thermage guide away, and even go so far as to give it away without even requiring an email address. When you know you are giving the best value, why not reveal all of the information to the patient? Sadly many doctors are "undertreating" or not delivering the proper number of pulses in order to get the necessary amount of tightening or lifting for each area and or for each person who might require more or less pulses. Many of our patients are coming to us to be "retreated" because their original treatment was improperly done, either with the wrong "vectors" or the wrong number of pulses. Services like Groupon only encourage further price gouging and have many doctors and practices looking for even more ways to cut costs. Practice manager John Aslanian reported spending over $150,000 annually in consumables for Thermage. "It simply doesn't add up, if someone is giving you a price of $1500, there is a good chance that they are not delivering the right number of pulses or worse yet using refurbished or bootleg "tips" risking the possibility of a third degree burn or at the very least a sub par treatment resulting in no discernable difference in your "before and after" .
"It was at that point that we decided we had to give the report away. Since too many consumers were being taken advantage of and the information simply doesn't exist to assist patients in making informed decisions." continued Aslanian. Armed with the right information and knowing the right questions to ask patients can then compare apples to apples and see if a local provider is equipped to give them the best treatment and has the proper training as well as well as their status and designation according to Thermage.
Just like everything else at Dr. Zdinak's practice. All of the rules are broken to insure that people who want the best treatment anywhere on planet earth can receive it, whether its Carboxytherapy for stretch marks, French Facial Mesotherapy, Cryotherapy facials, Exilis body shaping or PRP Dermal Fillers or "Vamp Lift". When it comes to non invasive and minimally invasive maximally effective choices Dr. Zdinak continues to be at the forefront of technology with over a dozen "firsts" in the non invasive and minimally invasive beauty industry.
Dr. Zdinak is the Chief Surgeon and medical director of Precision Aesthetics located at 10 West 74th St at Central Park West. In addition the above mentioned procedures are Genuine Dermaroller, Carboxytherapy for dark undereye circles as well as New York's premiere distributor of Australian Ultraceuticals and her own skin care vitamins Genetiskin.