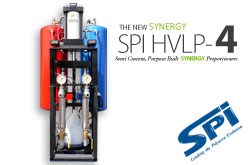 SPI offers economical low pressure equipment solutions for new business start-ups or established companies looking to augment their existing equipment.
Lakewood, Washington State (PRWEB) July 31, 2013
Specialty Products, Inc. (SPI) is expanding its top-of-the-line low pressure polyurea and polyurethane foam equipment series with the new HVLP™ (High Volume, Low Pressure) proportioner. The economical HVLP™ proportioner is designed and purpose built to work seamlessly with SPI's extensive portfolio of Synergy Series low pressure, spray and pour, polyurethane foam and polyurea coating systems.
Systems Approach: Low Pressure Polyurea & Polyurethane Foam Equipment
SPI's President, Dan Helton has a unique vision for low pressure equipment and material systems. The company uses a systems approach to low pressure applications by designing both materials and equipment to work synergistically together. Coined with the name "Synergy Series", SPI has formulated a broad portfolio of low pressure, spray and pour, polyurea elastomers and polyurethane foam products designed for processing through the HVLP™ and portable LPG™ proportioning equipment. What makes this unique is several industry companies offer low pressure proportioners, but they don't manufacture polyurea or polyurethane foam that is specifically designed to be processed through the equipment. SPI has solved this challenge with its Synergy Series equipment and material product line. "The word synergy that we use is not just a marketing term. It's synergistic in that we are building the equipment to the chemistry, and the chemistry to the equipment," said Helton.
HVLP™: Semi Custom, Purpose Built Synergy Proportioners
SPI's HVLP™ equipment was originally built in 2012. It was designed and custom built for a private contracting company that specializes in soil stabilization services. "We built the equipment from the ground up, with a material delivery rate of eight gallons per minute (GPM). During this process we realized the HVLP™ will process SPI's entire portfolio of Synergy Series polyurea and foam products," said Helton.
The HVLP™ equipment series is custom built with product output rate options for 2, 4, 6, or 8 gallons per minute. Onboard surge/accumulation tanks provide a constant, perpetual material feed to the proportioner without the use of traditional transfer pumps. The HVLP proportioner can deliver output of 1.25 GPM for spray applications and up to 8 GPM for pour applications. This includes both polyurethane foam and polyurea coating systems.
Business Opportunities with SPI Synergy Series Solutions
SPI offers two economical low pressure equipment solutions for new business startups or established companies looking to augment their existing equipment. The HVLP™ provides a low pressure, high volume output equipment solution, while the well-known LPG™ lightweight (76 lbs.) proportioner offers true mobility with low to medium volume output. Both the HVLP™ and LPG™ equipment can be used for numerous Synergy Series, spray and pour, polyurea coating and polyurethane foam applications. Synergy Series polyurea uses include waterproofing membranes for various substrates (wood, concrete, metal, polyurethane foam, geo-textile fabric), concrete joint fill or crack sealing, and many other uses. Polyurethane foam Synergy Series applications include ICC-rated wall and roofing spray foam insulation, soil and concrete slab stabilization, void filling, tooling, mold fabrication, flotation, packaging, refrigeration insulation panels, and other numerous uses.
For more information about the HVLP™, LPG™, or Synergy Series products, please visit ww.specialty-products.com
About Specialty Products, Inc. (SPI)
Headquartered in Lakewood, Washington, Specialty Products, Inc. (SPI) is widely recognized as a global market leader and innovator in the manufacturing of polyurea elastomeric coatings, polyurethane foam systems, and plural-component application equipment. Founded in 1974 and privately-owned, SPI also has operations in Rowlett Texas, Chicago Illinois, and Anchorage Alaska. Specialty Products offers advanced, hands-on applicator training classes that are taught by a NACE certified instructor and coatings inspector. SPI clients receive the industry's best 24/7 tech-support from a technical staff with over 250 years of combined industry experience.
To learn more about SPI's advanced polyurea protective coatings, please contact:
Specialty Products, Inc. (SPI)
Cliff Haskins
VP of Marketing
Specialty Products, Inc.
2410 - 104th St. Ct. S., Suite D
Lakewood, WA 98499
(800) 627-0773
(253) 588-7101