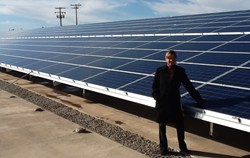 they can go solar and be cash positive immediately with no money out of pocket
Murrieta, CA (PRWEB) July 31, 2013
The HERO program is a branded term for one of the national Property Assessed Clean Energy [PACE] programs. It originally launched in December 2011 in 17 cities within Riverside County and has approved more than $186 million in eligible improvements. The program will soon be available to residents and businesses in several San Bernardino County communities.
"We have enjoyed a tremendous amount of success in Riverside County with this program and are thrilled that it is finally spreading to other counties," said Kelly Smith, president of Ambassador Energy in Murrieta. "HERO offers customers the opportunity to add solar to their homes and businesses in a very affordable and accessible way. All the property owners need is 10% equity in their properties and to be current on their mortgage and property taxes. If they meet those qualifications, they may use the fund's money to buy solar, and the cost is amortized for as long as 20 years on their property tax bill, paid twice per year. It works out beautifully, as a typical scenario will reflect a lower cost for the combined utility and property tax bill, so they can go solar and be cash positive immediately with no money out of pocket."
Smith continued, "As the fund is expanding to San Bernardino County, we are excited to put together a dedicated sales team, led by our very-experienced Business Development Director, John Wilson. John and I are very excited about putting people to work and thoroughly training them in our educational facility in Murrieta. They not only learn solar sales and technology, but also get to build a real solar system as a part of their training. They learn the right way to sell solar, which includes educating customers and giving them options. Since part of what we do at Ambassador Energy is training other solar companies, training our own sales people has been a natural. And it is putting people to work, which is a win/win. I am grateful for the HERO program for giving us the ability to do that."
For more information on the HERO program, residential, commercial and agricultural solar PV, contact Ambassador Energy.
About Ambassador Energy
Ambassador Energy [AE] has a three-pronged business model, which includes Ambassador Energy College Solar Training, the Ambassador Energy Agency Program and the installation arm, Ambassador Energy EPC. On staff are NABCEP Certified PV Installers, NABCEP Certified PV Technical Sales professionals [Fulgham/Kelso] and multiple NABCEP EL graduates. AE holds California licenses General Contractor B, C10 Electrician and C46 Renewable Energy. Ambassador Energy College is IREC/ISPQ accredited. AE Agencies are nationwide. Ambassador Energy EPC installs PV systems throughout California and the US.