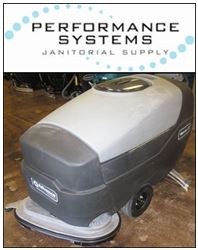 According to a spokesperson for the company, "We take pride in the quality of our machines and we stand behind every machine with a solid warranty. We have what your facility needs to looks its best."
(PRWEB) July 31, 2013
PS Janitorial, one of the leading online retailers for refurbished used janitorial equipment, is pleased to announce the availability of the Advance Warrior ST 28" Auto Scrubber for sale on its website. The quality auto floor scrubber is ready for same-day delivery and long scrubbing times at a customer's facility or organization.
The two main reasons to get high quality cleaning equipment are for presentation and maintenance. Cleaning machines like the Advance Warrior ST 28" Auto Scrubber do an excellent job of scrubbing a variety of surfaces, including marble, wood, linoleum, and more. This is important because every customer's physical location or facility should be attractive to be inviting to guests. In addition to the value of being presentable to customers, it's critical that a business or organization maintains its floors with floor buffers to ensure that they don't end up needing expensive repairs or replacements down the line.
Fortunately, PS Janitorial offers great janitorial equipment at fantastic prices. According to a spokesperson for the company, "We take pride in the quality of our machines and we stand behind every machine with a solid warranty. We have what your facility needs to looks its best." With a like it or return it guarantee, products that stand the test of time, and customer service that's unmatched throughout the industry, PS Janitorial is a great choice for any organization's cleaning solutions.
About PS Janitorial
For more than three decades, Performance Systems Janitorial has done its best to provide customers with a huge selection of quality affordable janitorial machines. The company proudly offers refurbished equipment that has been inspected and guaranteed by its trained technicians. Even better, the company is able to offer janitorial equipment at half price compared to new equipment, which means customers can find fantastic deals on high quality cleaning solutions that boost productivity and get great results. For more detail please visit, http://www.psjanitorial.com/.