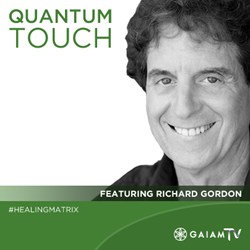 I whole-heartedly believe in Quantum-Touch's ability to heal the sick and injured, so I'm grateful when I get a chance to share the technique with others through such a popular outlet
Santa Monica, Ca (PRWEB) July 31, 2013
Gaiam TV featured Quantum-Touch, Inc. founder Richard Gordon on the "Healing Matrix" in July. Gordon talked with host Regina Meredith about his technique's ability to heal others using the power of love and directed energy.
"Gaiam TV is a highly respected outlet that provides information to people who want to live their lives as fully as possible while protecting the environment. Quantum-Touch aligns well with Gaiam's core values, and I'm pleased to have been asked to participate," Gordon said.
To watch the webcast, please sign up for a free 10-day trial of Gaiam TV.
Founded in Boulder, Colorado in 1988, Gaiam is a provider of information, goods and services to customers who value the environment, a sustainable economy, healthy lifestyles, alternative healthcare and personal development.
"I whole-heartedly believe in Quantum-Touch's ability to heal the sick and injured, so I'm grateful when I get a chance to share the technique with others through such a popular outlet," Gordon said.
Gordon is the founder of Quantum-Touch, Inc., an international organization that educates people on using simple, effective techniques to accelerate healing using the human body's "life force energy." He is a highly acclaimed pioneer in the field of energy healing and conducts Quantum-Touch workshops around the world.
Gordon has penned several books including "Quantum-Touch 2.0: The New Human" and "Quantum-Touch: The Power to Heal."
ABOUT QUANTUM-TOUCH, INC.
Quantum-Touch, Inc. provides a method of natural healing that works with the "Life Force Energy" of the body to promote optimal wellness. Life Force Energy, also known as "chi" in Chinese and "prana" in Sanskrit, is the flow of energy that sustains all living beings. Quantum-touch teaches simple and effective ways of using energy medicine to reduce pain, realign structure, balance organs, glands and systems, heal injuries and so much more.
For more information, please visit http://www.quantumtouch.com.