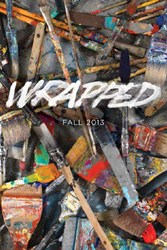 Venice, CA (PRWEB) July 31, 2013
Wrapped, a Los Angeles based luxury wrapping paper and unique gift designer and manufacturer, recently unveiled its new website featuring the Big Commerce system.
Each web page is now more coherent than ever, displaying the company's stunning product images and descriptions. The new website creates a fast and easy buying experience for customers.
In addition to the new website, Wrapped has also launched a variety of new products that include: new wrapping paper designs, artistic file folders, creative legal pads, and decorative gift boxes. The new Wrapped Holiday wrapping paper designs include the Cane Wrapping Paper, featuring the bright design of a delectable candy cane, as well as the Grinch Wrapping Paper that features shattered Christmas tree ornaments. These are just a few styles that Wrapped offers in its Holiday Collection.
Wrapped also brings artistic designs to the professional world with its new legal pads and file folders. New designer Gift Box sets, which display unique designs on both the interior and exterior for an all around artistic appeal, are also available now on the new site.
Wrapped has been successful in showcasing its new products at various tradeshows around the nation, including the Atlanta International Gift and Home Furnishings Show and the San Francisco Gift Show. Wrapped will be showing off its fine artistic wrapping paper and gift designs in the Jacob K. Javits Convention Center for NY Now from Aug. 17-23, 2013.
Wrapped LLC is a luxury wrapping paper company designer and manufacturer featured all over United States as well as internationally in Australia and Canada. Wrapped was established in 2012, and has since impressed customers with their creative design and excellent quality. To view Wrapped LLC's designs and offerings please visit http://www.WrappedLA.com