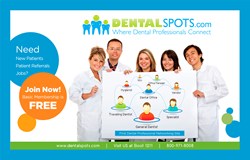 We want to be so complete in what we do that dental professionals won't have to go anywhere else but DentalSpots.com to find or fill Texas dental jobs.
Dallas, Texas (PRWEB) July 31, 2013
Growing dental practices may find it difficult to use only local newspapers or generic job websites to fill their open Texas dental jobs. DentalSpots.com has expanded its networking capabilities to make this job faster and easier for dental professionals.
DentalSpots.com, the premier online dental jobs matching site, offers users the opportunity to participate in a network that is geared specifically to the dental industry. Participants can utilize their network to promote open Texas dental jobs, look for potential job applicants, and ask for suggestions or references for job applicants. Since a wider network increases the likelihood of attracting more attention to dental job openings, DentalSpots.com recently added a new feature to help users expand their network.
Users of DentalSpots.com can now search their online database and find dental professionals who are not currently using the company's services. They can then utilize the new feature to send a voice or email message asking that person to join their network. The DentalSpots.com database has a list of all Texas dentists, Texas dental assistants, and Texas dental hygienists, so users will be able to quickly grow their online dental network.
Company founder and IT professional Feridoon Amini also advises users to continue accessing DentalSpots.com to post their open Texas dental jobs. "We've recently completed a site overhaul which helps job seekers search for jobs by dental specialty or geographic location," commented Amini. "For example, a dental practice might use our site to post an opening for a Dallas dental hygienist. A job seeker goes to our site and starts looking under dental hygienist jobs in Texas. That person is then directed to a special page which lists the advantages of becoming a dental hygienist in Dallas. Another click and they see every open dental hygienist job in Dallas and the surrounding communities."
Dental practices can also search online resumes for dental job candidates who meet their requirements. They can view an online resume or watch a video resume which allows them to get to know that person before deciding whether they want to initiate contact or not. With this newest feature DentalSpots.com now gives users a variety of ways to fill their open Texas dentist jobs, Dallas dental hygienist jobs, or Austin dental assistant jobs. They can put the word out through their expanded dental network, post Texas dental job openings, or search online profiles.
"As dental practices find potential candidates or receive information, they can also use our system to organize everything into convenient folders," added Amini. "We're working to develop a website that takes all the work out of filling Texas dental jobs. We want to be so complete in what we do that dental professionals won't have to go anywhere else but DentalSpots.com to find or fill Texas dental jobs."
Further information on DentalSpots.com may be obtained by visiting the website at http://www.dentalspots.com, connecting on Facebook, following @DentalSpots on Twitter, or calling 1-800-971-8008.