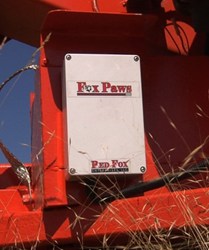 "When you gotta shutter down"
Worley, ID (PRWEB) July 31, 2013
Red Fox Safety Equipment hopes that by presenting this data people will acquire and use these devices. The whole reason the Fox Paws devices exist is because the inventor himself had a close call. The attached video tells his story.
About the case histories: The source of the data is from the CDC and others. The intent of this information is not to highlight the gory details of an accident but to show how important it is to take steps to protect workers before one of these tragic accidents takes place. These reports elicit an" if only response" from those who read them. "if only they could have shut down the machine." Perhaps they could have if they would have had a Fox Paws device installed. Fox Paws Shut off devices come in a variety of models for many applications. They attach to engines on almost any type of equipment from chippers, shredders, and ATVs to large tractors and trucks. They can be operated wireless with a transmitter button that can be worn on the person. Some have a lock out feature to prevent unwanted, inadvertent startup of equipment or vehicle. There is also an application for 120/240/480/600/VAC 1 or 3 phase motors and a model for corded mechanical shutoff in an explosion proof housing.
Farm work is one of the most hazardous types of work there is. Often adolescents under the age of 20 are involved. "It is, perhaps, the only industry where eight-year-olds and eighty-year-olds work in the same profession, side by side, operating large pieces of equipment. The death rate is four times that of all other industries combined. In 1993 there were 2,400 deaths, or 51 deaths per 100,000 farm residents. It is estimated that 300 children younger than twenty years of age die of agricultural injuries on U.S. farms annually. This is a tragic statistic that is unique to agriculture. Approximately 32,800 agricultural-related injuries occurred among children and adolescents under the age of twenty who lived on, worked on, or visited a farm operation in 1998. " Read more: http://www.answers.com/topic/farm-injuries#ixzz2afMP35kC
Here is an example of a case study posted on redfoxenterprises.com:
Farm Youth Died When He Became Entangled in an Unguarded PTO Shaft
NIOSH FACE Program: Michigan Case Report 03MI052 | CDC …
On May 23, 2003, a 13-year-old farm youth was killed when he became entangled in an unguarded rotating power take-off (PTO) shaft at the rear of his narrow front Farmall Model M tractor. The youth and his teenage cousin were raking hay in a field that had been cut a few days prior on an adjoining property. Both were driving narrow front Farmall Model M tractors equipped with a non-PTO powered hay rake designed for attachment to the tractor's drawbar. Neither tractor had a PTO master shield installed. The victim's tractor was ahead of his cousin's tractor and as he had already finished raking, had driven the tractor up near the barn. The victim's tractor had an owner-modified extension lever to activate the PTO located at the right side of the operator. This extension lever was a one-half inch (approx.) diameter steel rod with an aluminum pop can placed over the end that allowed the operator to activate the PTO lever located to his left behind the seat without turning around in his seat. The PTO shaft on the victim's tractor had a PTO extension attachment secured by an unshielded 5/16-inch bolt that protruded approximately 1-¼ inches beyond the shaft. Another individual installing a fence nearby saw the victim dismount from the tractor. It is unknown if the victim had disengaged the PTO before he dismounted, how the victim dismounted the tractor, and when the extension's bolt caught the right arm of victim's sweatshirt. After his cousin finished his raking, he pulled up behind the victim's tractor. He walked to the victim's tractor, saw the victim, turned off the tractor, and ran to the property owner's house to notify him. The individual installing the fence saw the cousin run to the property owner's house and went to the victim's tractor. Seeing the victim, he called 911. Emergency personnel arrived and the youth was declared dead at the scene. Source: http://www.cdc.gov/niosh/face/stateface/mi/03mi052.html
Red fox Safety Equipment Inc. hopes that those that read these reports will be moved to take whatever steps are necessary to keep workers safe.
Red Fox Safety Products Inc. is based in Worley ID
The owner inventor is Ted Lacy and can be reached @ 208-231-5860