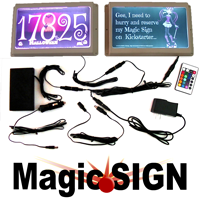 The availability of Backup Power for the MagicBillboard™ will not only make this product mobile and convenient to use by kids and adults, but it will also become an essential and very effective component of your vehicle emergency kit
San Diego, California (PRWEB) July 31, 2013
The Kickstarter campaign to bring MagicSign™ to production continues through August 26th. MagicSign™ provides color LED illumination of ready to install customizable SignSheets™ that are highly optimized and suitable for house street numbers and general signage. The MagicSign's™ remote control operation allows for a selection of a variety of colors with adjustable brightness and lighting effects such as flashing and strobing.
When connected to a Backup Power option the MagicSign™ will continue to remain fully functional even when there is no electricity, keeping your street address number visible from hundreds of feet away. According to Zack Braunstein, president of ADVS-technologies, "The Battery Pack included with the MagicBackupPower™ kit with a set of eight average capacity AA batteries provided by the customer, will keep one MagicSign™ functional for minimum of 40 hours of continuous use. When three MagicSigns™ are connected via MagicPowerSplitter™, all three signs will remain functional for a minimum of 12 hours."
"The availability of Backup Power for the MagicBillboard™ will not only make this product mobile and convenient to use by kids and adults, but it will also become an essential and very effective component of your vehicle emergency kit," Braunstein says.
In the case of unfortunate events and situations, such as an accident impacting and/or disabling your vehicle emergency lights, or if a vehicle is broken down on a road and is not clearly visible due to landscape or limited ambient light conditions, it is at times like these that the MagicBillboard™ can be of great service and help!
"Operated via the MagicBackupPower™ connected directly to any vehicles 12VDC power outlet, or using the Battery Pack loaded with eight AA batteries provided by the customer, the MagicBillboard™ can then be placed on the top of your vehicle as needed. Using available DC power extension cords of six feet each, the fully powered MagicBillboard™ can even be temporarily mounted on an elevated object, such as a tree, as far as 50 feet away from your vehicle, and can provide for a highly visible sign of any specific color, such as red, green, purple or blue, or even utilize special effects and rolling colors in making the sign visible from potentially miles away, effectively transforming it into a high visibility, highly efficient mobile emergency light should you ever need help on the road." Braunstein says.
A pledge of $79 or more for a MagicBillboard™ with MagicBackupPower™ through the ADVS-Technologies Kickstarter.com project campaign will speed up production and make the MagicBillboard™ available in-time for the end of the year holidays, and that will include ready to install beautifully designed ArtSheets™ celebrating the holidays.
The ADVS-Technologies MagicSign™ team is continuing to update their Kickstarter campaign and website in order to achieve maximum funding.
"We are extremely proud to offer the high quality MagicSign™ and MagicBillboard™, both truly unique and innovative products with a great ever-growing list of benefits. Make a pledge of $69 or more to help your community to be the first in the World to have light up street address MagicSigns™ which improve neighborhood safety, and in assisting first responders locate street addresses clearly and quickly in their line of duty. Using MagicBillboard™ you will help to support your children's creativity by providing creative outlets and activities for them such as playing and designing with art and colors; and feel secure in taking better care of them when on the road, with the important addition of the MagicBillboard™ to your vehicle emergency kit," Braunstein encourages.
To view and contribute to the MagicSign™ Kickstarter campaign please visit http://www.kickstarter.com/projects/2039565407/advs-magicsigntm-color-led-illuminated-identificat
About ADVS-technologies
ADVS-technologies is a startup company specializing in the development of innovative proprietary technologies with intellectual property values under regulations by the USPTO, and applicable international laws. The objective of ADVS-technologies is to provide effective and efficient environmentally friendly solutions with the intent of improving quality of services.
MagicSign™ is a trademarked product of ADVS-technologies. It is United States patent number US 8,099,261. MagicPowerSplitter™ is a trademarked product of ADVS-technologies. It is United States patent pending application number 61,859,723. For more information, please visit http://www.magicstreetsign.com.