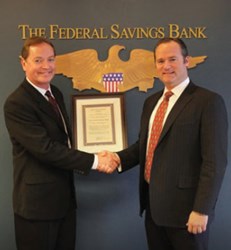 Since 2009, the number of homeless veterans has declined by 19 percent.
Chicago, IL (PRWEB) July 31, 2013
The Federal Savings Bank, an institution specialized in veteran loans, has been telling its mortgage applicants of the positive efforts made to reduce homelessness among our brave. As organizations across the country are receiving grant money from the Department of Veterans Affairs to implement programs that serve veterans and aim to prevent homelessness, progress is being made gradually.
The Army Times reported that, since 2009, the number of homeless veterans has declined by 17 percent - a significant improvement. However, many people in charge of such programs say that, due to legal restrictions, vets are placed in affordable apartments without any basic amenities.
"Our nation's veterans deserve to return to America full of opportunities to thrive and succeed after serving our great nation," said Rep. Tammy Duckworth, a double-amputee Iraq War veteran and a Democrat from Illinois. "Unfortunately, that is currently not the case."
The VA and Eric Shinseki's promise to end homelessness for veterans has prompted the injection of millions of grant money into more than 300 organizations in the U.S. intended to provide related services. By 2015, the VA hopes to bring homelessness among veterans to a "functional zero," or less than 10,000 people in the nation.
The work of grant money among service organizations
The Supportive Services for Veteran Families Program at the VA has increased its total grant awards by more than three times this year compared to 2012, totaling $300 million. And it's paying off. Data from the Department of Housing and Urban Development reveals a remarkable drop in the number of homeless veterans in the U.S. For instance, in 2003, there were an estimated 300,000 homeless veterans. In 2012, there were only 62,000.
"If you can prevent a veteran from falling into homelessness or being in at-risk situations, you can head off various other issues like addiction and health problems," said Matt Carey, director of the District of Columbia Office of Veterans Affairs. Since 2008, the HUD-Veterans Affairs Supportive Housing program has distributed more than 58,000 housing vouchers to veterans covering 85 percent of a recipient's rent. According to Carrey, the 11,000 more vouchers expected to be distributed in 2008 are not enough.
Just recently, four organizations in Atlanta received more than $4.5 million from the VA to provide housing and financial stability, as well as emotional support, to veterans in the Atlanta-metro area.
Contact The Federal Savings Bank, a veteran owned bank, to discuss VA home loan eligibility and other home financing options like an FHA mortgage.