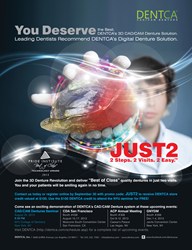 "DENTCA is proud and honored to collaborate closely with the top academic leaders and institutions to keep pushing the frontiers on this remarkable new process for denture delivery."
Los Angeles, California (PRWEB) July 31, 2013
New York University College of Dentistry (NYUCD) is hosting a 3-hour live CAD/CAM denture technology seminar for 250 dentists, residents, prosthodontists, denturists, and academic leaders on Friday, August 22, 2013 at 6:30 PM. NYUCD will issue 3 CE credits to every AGD member who completes the seminar.
The 3-hour seminar will be co-presented by Dr. Lawrence Bailey, past President of the New York County Dental Society and the New York State Academy of General Dentistry, and Dr. Tae Kim, Chairman of Removable Prosthodontics in the Division of Restorative Science, Ostrow School of Dentistry, University of Southern California, Los Angeles, California.
The seminar is open to all members of the AGD, academia, licensed dentists and dental professionals who want to stay ahead of their profession with ground-breaking digital techniques. As many early adopters have already discovered, DENTCA's CAD/CAM denture procedure significantly enhances the century-old conventional process to deliver higher quality dentures in a fraction of the time.
Whereas conventional procedures generally require five patient visits and five or more hours of chairtime to deliver final dentures, DENTCA's CAD/CAM system enables final denture delivery in just two patient visits and one hour of chairtime from start to finish.
"Dentists will benefit tremendously from this seminar hosted by Dr. Lawrence Bailey and the prestigious New York University College of Dentistry. This three-hour course will transform every doctor's practice by showing how digital denture design can make denture cases one of the easiest procedures to deliver accurately and efficiently every time," says Sun Kwon, DENTCA President and CEO. "DENTCA is proud and honored to collaborate closely with the top academic leaders and institutions to keep pushing the frontiers on this remarkable new process for denture delivery."
DENTCA's CAD/CAM denture system enables doctors to:
1. Deliver 100% accurate final dentures directly from one impression.
2. Provide replicas or replacement dentures without additional chairtime.
3. Deliver customized duplicates with additional detailing or characterization.
4. Provide best-of-class quality care treatment with convenient procedures that save time.
5. Deliver comfortable and aesthetic dentures in just 2 weeks for virtually all denture cases.
6. Become associated with high-quality, state-of-the-art dentures designed with micron precision.
7. Never worry about human error involved with hand fabrication.
8. Eliminate the need for constant adjustments after delivering final dentures.
9. Have confidence providing dentures with minimal maintenance for long-term use.
10. Deliver dentures that look better than actual teeth without multiple patient and lab visits.
Become a Part of the Digital Denture Solution:
Early registration is highly recommended as this cutting-edge seminar is expected to fill up quickly. Register for the NYUCD Digital CAD/CAM Dentures seminar at: http://www.dentca.com/schedule.asp.
About NYU College of Dentistry:
Founded in 1865 as the New York College of Dentistry, with 31 students and 10 faculty members, the College was originally located in rented quarters at the corner of 22nd Street and Fifth Avenue in Manhattan. The College officially merged with New York University in 1925, which led to the promotion of research and postdoctoral education. Today NYUCD is recognized as a leading source for dental care in New York City and a leader in research and national policy issues in dentistry.
NYUCD offers training annually to over 1,800 students from all over the U.S. and nearly 50 countries. Approximately 50 percent of NYUCD students are women and minorities. They include pre-, and post-doctoral students of dentistry, as well as students in dental hygiene and nursing. The College also offers M.S. programs in biology/oral biology, clinical research and biomaterials, and a Ph.D. program in epidemiology in collaboration with Columbia, Johns Hopkins, and Yale Universities. An extensive program of continuing education courses is available for graduate dentists.
About DENTCA:
DENTCA, Inc. (Los Angeles, California), the pioneer of CAD/CAM Denture Technology, produces high-quality dentures through computer-aided design (CAD), computer-aided manufacturing (CAM), proprietary 3D modeling, and scalable 3D printing technology. After introducing game-changing technology to dentistry, DENTCA received the Pride Institute's Best-of-Class Technology Award in 2012 -- the first denture company in history to receive this coveted award. DENTCA's patented tray system is designed to save significant time by enabling doctors to capture the impression, VD and CR in the same patient visit in less than one hour of chair time. DENTCA provides high quality denture fabrication services to prosthodontists, general practice dentists, denturists, mobile dental networks, dental laboratories, government agencies, dental schools, and corporate health care networks with 100% accuracy and rapid turnaround times through its award-winning 3D CAD/CAM technology. With extensive patent protection, client relations, academic collaboration, and dedication to R&D, DENTCA is committed to advancing modern dentistry with this state-of-the-art, revolutionary technology for years to come.
Contact Information:
DENTCA, Inc.
3608 Griffith Avenue
Los Angeles, CA 90011
Tel: (323) 232-7505 | 855-4DENTCA | 855 433 6822
Fax: (323) 232-7504
E-mail: info(at)dentca(dot)com
URL: http://www.dentca.com
FB: http://www.facebook.com/dentcausa
Media: youngerhong(at)dentca(dot)com
###