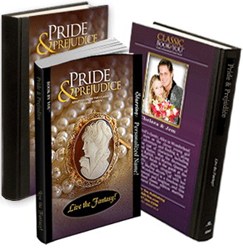 Jane Austen on a postage stamp and now your name in a Jane Austen classic
(PRWEB) July 31, 2013
Austenophiles the world over are excited by this announcement-- Chancellor George Osborne even tweeted that the move showed "sense and sensibility". What better time for all fans of Jane Austen to immerse themselves in personalized versions of her classic, beloved novels? Book By You, the leader in personalized books, currently has four personalized Jane Austen titles in their personalize-able collection.
Book By You's newest personalized Austen classic, "Northanger Abbey", lets readers actually become characters like the sarcastic, funny heroine Catherine Moreland, and handsome and clever hero Henry Tilney. Choose friends (and enemies) for the other four personalize-able characters. Delve into the match-making world of "Emma"—readers can personalize eight characters, including the title character herself, Miss Emma Woodhouse. In "Sense & Sensibility," readers can step into the shoes of either of the two heroines, Elinor and Marianne Dashwood, or the three heroes, John Willoughby, Edward Ferrars, or Colonel Christopher Brandon. Or step into "Pride and Prejudice" as Elizabeth Bennet or Fitzwilliam Darcy to experience their timeless romance first-hand.
Austenophiles and lovers of classic romance can personalize their selection by providing specific information like loved-one's names, features, even favorite drinks and places, and over twenty-five other unique characteristics to make their fantasy world a reality. A spouse, friends, and family, can be included, too! The result is a full-length paperback or hardcover that can be further personalized with a one-of-a-kind cover and special uploaded photo for the back cover, adding up to the ultimate, unforgettable read!
Book By You's entire personalized collection, including all four Austen novels, is now also available as personalized ebooks. Personalized ebooks are available for download immediately upon ordering. To make them especially unique, each ebook includes a free photo upload feature. Add a personalized dedication, and the result is a remarkable ebook that can be taken anywhere and read any time.
To purchase a personalized novel, romance lovers go to the company's website at BookByYou.com and complete a character questionnaire specifying the information to be included in their book. The company offers a free demonstration area where readers can preview personalized excerpts from any of the company's teen, romance, mystery or children's personalized books. Media interviews and promotional images are available upon request.