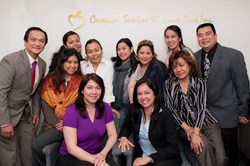 Caregiver Services... 'Caring for Life'.
Los Angeles, California (PRWEB) July 31, 2013
Caregiver Services and Home Care Inc. (CS) will celebrate its 10th year of successful senior care services at home and other senior living community as announced by its CEO Belina Calderon Tagarao, Los Angeles IMAGE AWARDS honoree this year. CS is a certified member of CAHSAH, California Association for Health Services At Home and recently had been featured in 2 Asian Newspaper, Asian Journal and Weekend Balita concluding their Company Annual Training held at Las Vegas Nevada.
CS Corporate Executives and Managers have extensive local and international training and work experience as top level Executives in health care management, human resource and staffing solution service, Training for staff development and organizational development.
The company's operating system and business process are strongly in place to guarantee increase in each staff's productivity and ensure adherence to core values and service philosophy. This helped the company achieved a respectable annual revenue and further reached greater heights. The launching of 'Caregiver University' spearheaded by CS Director for Business Development and Training Randy Clarito had also produced efficient training program for all caregiver participants and greatly helped improved their knowledge and skills on the whole aspect of in-home care service. 'Caregiver University' conducts inductive training of CNA and caregivers with its training modules focusing on the company's Service Philosophy, Core Values, Vision /Mission, Healthcare industry data and statistics, Effective communication to people with Dementia, Goals setting, S.T.A.R. Philosophy, How to handle angry clients, Paradigm shift, responsibilities of caregivers and other relevant learning modules.
CS dedicated Case Managers Arnold Navarro and Anne Capili implement the company's unique 'Circle of Care' which guarantees that all cases are handled to the best interest of the clients. The agreed 'Plan of Care' with the family members are closely monitored, evaluated and implemented with periodic review of caregiver's service performance and client's progress to ensure that consistent level of care are achieved at all times. CS Staffing Department Head Jennifer Remigio continues to build its department's CNA and caregiver data base and orient them with the department's expectations and standard of performance during the 'Caregiver University' inductive training. These are all supported by Accounting staff Charlotte Baseleres with a computerized billing and payroll system ensuring accurate and prompt completion of the department's task.
CS belongs to BCT Group of company engaged in Employment Services and Staffing Solutions, L.A. Jobs Employment Agency, http://www.lajobsea.com and another company Summit Medical Billing. The future direction of the BCT group of Company is to acquire other businesses that can complement existing companies and further build a conglomerate of strong business that could last for decades of operations. CS can further expand its operations in the future all over the U.S. and strategically register as a Master Franchisor of In-Home Care Service company.
About BCT Group of Company headed by CEO Belina Calderon Tagarao:
Caregiver Services and Home Care Inc. (CS) http://www.mycaregiverservices.com is a premier In-home care service company that provides professional private care duty to seniors and adults requiring assistance in their home and healthcare needs for the past 10 years. The company is run and managed by healthcare Executives with local and international training with combined top level executive work experience of more than 40 years. CS is the only In-Home Care company that has its in-house 'Caregiver University' in Southern California area that provides professional caregiver training held at its Los Angeles head office. CS is a Certified Member of CAHSAH, California Association for Health Services at Home and operates in Los Angeles County, Orange County, Ventura County, San Fernando Valley, San Bernardino County and Santa Barbara County area. Free evaluation, call #213-351-9100 #805-338-8100, #310-779-6254, #818-561-6641 and #562-412-2420.
L.A. Jobs Employment Agency
The leading career and visa specialist in Los Angeles for foreign professionals. L.A. Jobs http://www.lajobsea.com provide more opportunities for international workers who are highly qualified professionals and competitive to be able to build their career in the U.S. The company had successfully placed hundreds of applicants in the past few years even during the period of recession and it had attained a high approval rate of H-1B work petitions and green card of applicants enabling them to take the path to citizenship through employment and live the American dream. The company aims to be the premier leader in the employment industry in the U.S. Call for free consultation at #213-351-9100.
Summit Medical Billing
A fast growing Medical Billing company that helps physicians and other medical and healthcare companies obtain payment from insurance carriers and patients by effectively handling insurance claims and aid them to manage their practice and finance side efficiently. Summit Medical Billing aims to establish a strong alliance with the American Medical Association and continue to provide help to their members increase their revenue with the efficient handling by the company's billing expert. Call for free evaluation and consultation at #213-351-9100.