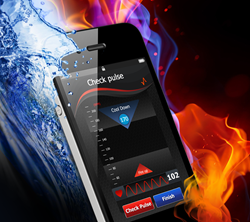 FitPal fitness test helps transform workout into an unforgettable, pleasant experience.
Seattle, WA (PRWEB) July 31, 2013
FitPal application uses iPhone back camera as a monitoring device for fitness assessments. Some FitPal users experienced difficulties passing the test due to shaky fingers during or after a workout, thus not allowing a stable pulse wave signal to pass FitPal quality check.
Company experts conducted a special research in several fitness clubs and captured physiological signals from people during a workout. The data allowed scientists to significantly improve their algorithms and reliability of the fitness assessment software running on iPhone. "We had to make major changes in the algorithms processing physiological signal from iPhone camera," said Alexander Bandarchuk, FitPal CEO. "We had to create dedicated algorithms for all iPhone versions. This made a huge difference!"
FitPal uses iPhone built-in camera with flashlight to capture pulse from user's finger and calculate functional capacity and optimal level of exercise intensity for each workout. This helps ensure the greatest possible health benefits while significantly lowering and controlling risks of overtraining. At any time, users can instantly check their pulse with FitPal to make sure they are staying within the recommended heart rate zone.
iPhone application FitPal was created by a group of fitness trainers, medical doctors, and international scientists. The application is available on App Store for iPhones only.