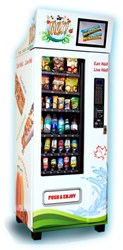 Canada's approach to healthy vending options for students remains a patchwork with wildly varying rules
Vancouver, British Columbia (PRWEB) July 31, 2013
Canadian Healthy Vending asks: Is it time for a national initiative on promoting healthy snacks in Canadian schools? While Canada's approach to healthy vending options for students remains a patchwork with wildly varying rules from school district to school district and province to province, the U.S. Department of Agriculture (USDA) has just announced the new Smart Snacks in School nutrition program which ultimately aims to replace unhealthy snacks with nutritious options in all school vending machines in the U.S.
Individual provinces have implemented healthy eating programs in schools with high standards, starting with Nova Scotia, and including Ontario and British Columbia. Other provinces have few if any rules and leave nutritional guidelines up to hard-pressed school boards who often depend on vending contracts with large vending companies and sugary beverage producers to fund extracurricular activities. While the recommendations of the Canada Food Guide form a strong framework for participating levels of government, there is no coordinated national plan similar to what is being implemented on a federal level in the U.S.
Smart Snacks in School includes not only state and local government, but there is also considerable industry support, including from the American Beverage Association, for the new national standards in the U.S. In vending machines at schools, limits are set for salt, sugar and fats. Foods must contain fruit, vegetable, dairy or protein as the first ingredient, or contain 50% whole grains or contain at least 60 mL of fruit and/or vegetables. Low fat and fat-free milk, 100% fruit and vegetable juice and no-calorie flavoured waters are permitted. These standards must all be met in schools by July 1, 2014.
These rules have been brought in to fight the high obesity rates seen in the U.S. According to the U.S. Center for Disease Control, 17% of children and adolescents are obese, a rate that has tripled since 1980.
"In light of the USDA's Smart Snacks in School initiative in the U.S., perhaps it's time for the Canadian federal and provincial governments, along with industry, to take a fresh look at the type of products available in vending machines in schools," said Edward Thompson, Vice-President of Canadian Healthy Vending, manufacturer of Max! Healthy Vending Machines.
Canadian Healthy Vending is a leading promoter of healthy vending in elementary and high schools, offering grants of $500 to $10,000 to schools depending on the number of Max! Healthy Machines they are hosting.
About Canadian Healthy Vending
Canadian Healthy Vending is a Vancouver-based vending equipment manufacturer and distributor with over 23 years experience in the Canadian vending industry and is the manufacturer of the Max! Healthy Vending Machine. Our Mission is to get healthy snacks and nutritious drinks into the hands of Canadian workers and students in every city and province across the country. The state-of-the-art Max! Healthy Vending Machine features both cash and cashless payment systems in addition to a high resolution display monitor, which provides nutritional information on product offerings, and information on community health initiatives. To get more information about Canadian Healthy Vending or to get a Max! Healthy Vending Machine at your workplace visit our web site.