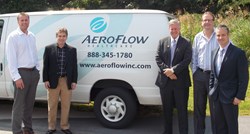 In addition to providing high-quality medical equipment, Aeroflow Healthcare is putting people to work in Buncombe County.
Asheville, NC (PRWEB) August 30, 2013
The representative of North Carolina's 11th District, Congressman Mark Meadows, visited the Aeroflow Healthcare office in Asheville, North Carolina, on Tuesday, August 27th. The purpose of the visit was to learn more about Congressman Meadows and his beliefs as they relate to the medical supplies and services industries.
"We extended the invitation for Congressman Meadows to visit our Corporate Office so that he could take a tour, meet our team and give us the opportunity to speak with him in-person," said Don Hite, President of Aeroflow Healthcare. "We were very impressed with the level of knowledge that he had regarding Aeroflow Healthcare and our industry as a whole. We found him to be very sincere, compassionate, and willing to listen and help."
Aeroflow management, Congressman Meadows and his staff discussed a variety of topics including National Competitive Bidding and its effects on patients, and the Affordable Care Act (or "Obamacare") and its impact on patients, Aeroflow Healthcare, and continued job growth. Aeroflow Healthcare currently employs over 175 people, and continues to show signs of growth in sleep disorder management, respiratory services, negative pressure wound therapy, non-invasive ventilation and a variety of other health care related fields throughout the nation.
Congressman Meadows received detailed information about the true effects of the federal Government's policies and Aeroflow's understanding of the necessity of many of them. Josh Hill, Director of Business Development at Aeroflow, shared his discussions with Congressman Meadows: "Most predominant was his desire to help Aeroflow Healthcare avoid unfair government impediments, such as restructuring the way federal payers audit, and the affects of the Affordable Care Act and providing our employees with good coverage." Companies like Aeroflow Healthcare question many audits being done industry-wide, costing providers a tremendous amount of energy, time and money. Aeroflow will be providing Congressman Meadows with specific information to assist him and his staff in understanding these challenges better so that he can help make beneficial changes.
"In addition to providing high-quality medical equipment, Aeroflow Healthcare is putting people to work in Buncombe County," Meadows said. "I was pleased to visit with the team behind this growing business and learn more about the issues facing the industry," Don comments, "We thank Congressman Meadows, his wife and advisors for taking the time to meet. Aeroflow Healthcare is grateful for their help promoting positive change for our industry."
Aeroflow Healthcare is the premier provider of home respiratory and mobility equipment and services. Aeroflow is an accredited Medicare and Medicaid provider and accepts most commercial insurances. Their qualified staff offers years of experience in healthcare, care giving and meeting the needs of those who need home medical equipment and services. Aeroflow is also the parent company of FetchRx Pet Pharmacy and CheapCPAPSupplies.com. For more information, visit http://www.aeroflowinc.com or call (888)-345-1780.