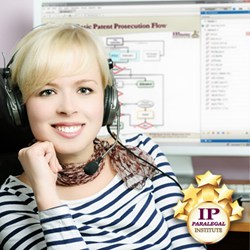 Institute graduates take with them all the tools necessary to become empowered and marketable IP paralegals.
Cedar Hill, TX (PRWEB) August 12, 2013
Previously operating as the IPParalegals Paralegal Training Center, the IPParalegal Institute announces the opening of their new online campus.
Institute founder and president Viola Ange reflects on the announcement, "I remember us doing remote paralegal training as IP consultants ... back in the early days of having to schedule and lease backbone bandwidth weeks in advance ... renting corporate offices that used large video conferencing systems and 27" TVs. The Institute's origin actually predates web browsers - a journey that has been truly amazing."
The IPParalegal Institute curriculum includes their prestigious Intellectual Property Prosecution Paralegal Certificate Program, which is comprised of adjunct certificate programs in the Patent Prosecution, Trademark Prosecution and Copyright Prosecution fields. Additionally the IPP Institute conducts Certificate of Specialized Study Courses that provide students with focused learning in individual intellectual property prosecution disciplines. Non-certificate Professional Development courses and classes are also available.
Adds Ms. Ange, "There are so many in university academia and in the distance learning industry who we must thank for helping us turn our passion for teaching the science of intellectual property prosecution into a model eLearning institution for advanced IP paralegal education. It's hard to fathom that, after almost 30 years, we're only just scratching the surface of the Institution's potential."
The IPP Institute's IP Paralegal Certificate Programs and Courses serve as independent study certificate conferrals, as complimentary matriculation studies for Associate and Undergraduate Paralegal Studies degree programs; and as advanced study components which integrate with existing Paralegal Certification programs that are in conformance with NALA certification rules and guidelines.
Additionally the Institute provides custom IP technical training that can be tailored to meet a law firm's or corporate legal department's needs, and can be scaled to address an organization's technical requirements for their nonlawyer specialists, paralegals, assistants, secretaries, docket administrators and docketing personnel.
The IPParalegal Institute, together with its founding community of learned and seasoned faculty, is devoted to excellence in teaching, learning, and research. The Institute's educators are committed to developing disciplined technicians and true nonlawyer professionals in the field of intellectual property prosecution. Institute graduates take with them all the tools necessary to become empowered and marketable IP paralegals
For more information, and to register for fall/winter 2013 courses, you are invited to visit the IPParalegal Institute's website at http://www.ipparalegalinstitute.com.
Accuracy • Accountability • Attention to detail ... the hallmarks of an IPParalegal graduate.
_____________________________________________________________________________________
Viola Ange may be reached via email at vange@ipparalegalinstitute.com, or through the Institute's online campus at http://www.ipparalegalinstitute.com.