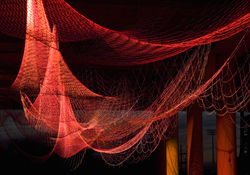 I'm interested in sculpting earth and sky, and placing ourselves in between.
Brookline, MA (PRWEB) August 28, 2013
Studio Echelman announced today that Janet Echelman has begun sculpting the Keynote art commission for GLOW 2013, the tri-annual art festival for site-specific works on Santa Monica Beach.
Between 100,000 and 200,000 people are expected to attend GLOW, making it one of the largest public art events in the U.S. The City of Santa Monica announced that their "all-night cultural experience" will transform Santa Monica Beach into a "playground for thoughtful and participatory, temporary art."
On the night of September 28, 2013, the public is invited to enter into Echelman's immersive work, "The Space Between Us." This ground-breaking work utilizes experimental elements, including shaped earth and a 5-channel audio component. The artist and her team will collaborate with City Public Works staff to create carved sand indentations for visitors to enter and gaze up at the aerial sculpture.
Echelman views this commission as a point of growth and departure. "The beach is the charged zone between human society and uncontrolled nature," she said. "I'm interested in sculpting earth and sky, and placing ourselves in between. It's the collision of heaviness and lightness, between our gravity-bound bodies which walk on sand, and the part of us which seeks to float in air, or in water."
In 2013, Echelman was selected as #1 by Oprah Magazine's Wow List of the 50 "awe-inspiring people, places and things that bowled us over, choked us up and lifted our spirits high." She was also named an Architectural Digest Innovator for "changing the very essence of urban spaces." Her TED Talk, "Taking Imagination Seriously" has been translated into 33 languages and is estimated to have been viewed by more than a million people worldwide.
"My goal is to invite people to have an ephemeral sensory experience without words - a moment of contemplation that can evoke preverbal memory and engage our Limbic brain."
Produced by the Santa Monica Cultural Affairs Division and the Santa Monica Arts Foundation, the goal of the evening is to "break through the public's preconceived notion of what art can be, encouraging both thoughtful contemplation and energetic participation," said GLOW organizers.
To visit the sculpture, park near the Hotel Casa Del Mar hotel and it will be accessible from the boardwalk that extends from Bay Street. The exhibition opens at sunset on Saturday, September 28th and continues until 3am on Sunday.
Studio Echelman builds living, breathing sculpture environments that respond to the forces of nature - wind, water and light - and become inviting focal points for civic life. Recent prominent works include: Her Secret is Patience spanning two city blocks in downtown Phoenix, Water Sky Garden which premiered for the 2010 Vancouver Winter Olympics, and Every Beating Second in San Francisco Airport's new Terminal Two. Her sculpture Pulse, for Philadelphia City Hall's Dilworth Plaza, traces the paths of subway trains above ground using mist and colored light and received the 2012 Knight Foundation Arts Challenge.
For additional information regarding Studio Echelman's sculpture, contact Melissa Henry, melissa(at)echelman(dot)com.
Studio Echelman
Studio Echelman explores the cutting edge of sculpture, public art, and urban transformation. http://www.echelman.com
Follow us on Facebook: https://www.facebook.com/studioechelman/.
###