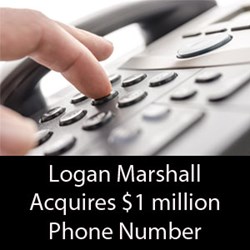 1-800-ZOOMTAD is a great vanity toll-free number to match the Zoomtad Corporation
Wells Fargo, CA (PRWEB) August 19, 2013
The toll free number, 1-800-ZOOMTAD, has been purchased by ZoomTad.com. The phone number is valued at $1 million, but the actual purchase price is unknown. The number holds such value due to its unique appeal as a vanity number, and toll free specialists have stated that it is a perfect example of a toll free number that has the power to enhance business marketing and promoting efforts significantly. Zo Omtad, the companies founder commented that the number, "has the abilty to boost business and strengthen the brand image."
Corporations acquiring toll free phone numbers is not uncommon, however, the amount at which the ZoomTad toll free number has been valued is drawing attention within the toll free industry, leading to speculation that the ZoomTAD portfolio is making this company stand out from the rest in the modern telecommunications industry.
1-800-ZOOMTAD was aquired from TollfreeNumber.ORG. Tollfreenumber.org, was started in 1999 and has served more than 100,000 businesses in all 50 states, making them a big player in the toll free number market. Many are stipulating that by adding this new, coveted 800 number to their business profile, they will help to further solidify their top ranking position in the industry.
Tollfreenumber.ORG provides low-cost toll-free numbers to thousands of private individuals nationwide, as well as to business clients. The company serves parents seeking to keep in touch with children away at college; adoptive parents seeking to provide birth mothers with easy access to them; and families seeking to stay connected with relatives living across the country.
The company, based in Irvine, Calif., allows clients to obtain toll-free numbers that can be routed to their home phones or cellular phones without the need for additional hardware.
Tollfreenumber.ORG offers numbers in the 800, 888, 877, 866 or 855 area codes, and clients also can choose customized, vanity phone numbers for ease of use. The company, which serves more than 100,000 clients, was founded in 1999. For more information, see the website http://www.tollfreenumber.org, or call 1-800-951-9411.
The ZoomTAD Corporation was established in 2005 and is dubbed "the clearest choice for voice." ZoomTAD is a worldwide provider of data, telephony, and communications services. The ZoomTAD corp can be contacted through their website at http://www.zoomtad.com or by calling 1-800-ZOOMTAD