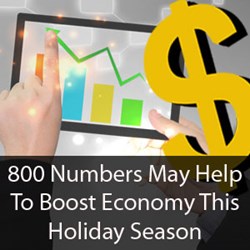 "With so many people finally seeing the benefits of having a toll free number (and a growing number of consumers using toll free numbers to contact retailers), 800 numbers may just be the thing that helps the economy this month," says Logan Marshall
Irvine, CA (PRWEB) August 31, 2013
Tollfreenumber.ORG , a California based toll free number provider, has released information pertaining to how the 2013 holiday season will be impacted by the growing usage of toll free numbers. Toll free experts have been singing praises for toll free numbers for quite some time. However, with the advent of the internet and other technological advances, toll free number's popularity waned a bit. However, now more consumers are feeling the need to make more personal contact with retailers, and to have a convenient outlet to voice their concerns or address questions. Toll free number usage has become a prevalent means of communication.
"With so many people finally seeing the benefits of having a toll free number (and a growing number of consumers using toll free numbers to contact retailers), 800 numbers may just be the thing that helps the economy this month," says Logan Marshall, Founder of tollfreenumber.org. "There has been an increasing number of people visiting our site, looking for toll free numbers. They are now aware of their potential to boost sales and reduce returns (especially during this holiday season)."
Toll free experts have reported that the stock of toll free numbers has been dwindling rapidly. Now the supply of these numbers sits at an all-time low, with many businesses finding that their first choice for an 800 number has already been taken once they have decided to finally register. Therefore, those who would like to get a toll free number are advised to do so as soon as possible.
Tollfreenumber.ORG specializes in helping small businesses to be competitive nationwide by providing toll-free phone numbers and other telecommunications services. The company's services geared toward small businesses include customized vanity toll-free phone numbers, comprehensive logging of incoming calls, a Virtual Telecenter, and routing of the toll-free number to any phone, including cellular phones.
Tollfreenumber.ORG, which is based in Irvine, Calif., also supplies toll-free phone numbers to parents seeking to adopt children, and to other private individuals. The company was founded in 1999 and serves more than 100,000 customers nationwide. For more information on acquiring toll-free phone numbers for business or personal use, visit the company's website at http://www.tollfreenumber.org/toll-free-numbers/ or call 1-800-951-9411.