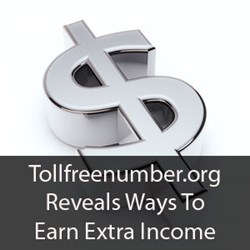 "We found that many people simply weren't aware of the many ways in which you can benefit from a toll free number, nor the income generating opportunity an 800 presents," says Logan Marshall
Irvine, CA (PRWEB) August 07, 2013
Tollfreenumber.ORG, an American-based company, has recently published a valuable resource section on their site, along with an accompanying eBook that provides insight into how an individual or business can profit from a toll free number. As well as highlighting the benefits of having a toll free number, the site also provides tips on how one can begin earning extra income and the ways in which an 800 number can boost business marketing efforts.
"We found that many people simply weren't aware of the many ways in which you can benefit from a toll free number, nor the income generating opportunity an 800 presents," Logan Marshall, Founder of tollfreenumber.org, stated in a recent interview. "Though many people were coming to our site to purchase a toll free number, a vast majority were unaware of just how much profit they could actually make with their new number."
Some of the extra income generating tips featured in the eBook are: making your marketing campaign more effective with a toll free number, building your brand's image and recognition with an 800 number, and many more.
The site also features a forum and a number selection tool that enables users to search for a toll free number and view its price before making their purchase. It's important to also mention that the eBook is free for a limited time for those who sign up on the site.
Tollfreenumber.ORG provides low-cost toll-free numbers to thousands of private individuals nationwide, as well as to business clients. The company serves parents seeking to keep in touch with children away at college; adoptive parents seeking to provide birth mothers with easy access to them; and families seeking to stay connected with relatives living across the country.
The company, based in Irvine, Calif., allows clients to obtain toll-free numbers that can be routed to their home phones or cellular phones without the need for additional hardware.
Tollfreenumber.ORG offers numbers in the 800, 888, 877, 866 or 855 area codes, and clients also can choose customized, vanity phone numbers for ease of use. The company, which serves more than 100,000 clients, was founded in 1999. For more information, see the website http://www.tollfreenumber.org , or call 1-800-951-9411.