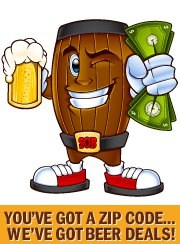 Life is too short to drink cheap beer! So, I use the Beer Alerts to find it on special.
Houston, TX (PRWEB) August 14, 2013
This summer, a slew of new beers have been released. These microbrews include: Stone Brewing Co "Old Guardian" Barley Wine Style Ale; Perenniel Artisan Ales "Aria" Brettanomyces-Flavored Belgian Style Ale; 4 Hands Brewing Co "War Hammer Imperial IPA"; Founders "All Day IPA" Session Ale; Widmer Brothers "Raspberry Russian Imperial Stout '13"; New Belgium "Lips of Faith Series: Cascara Quad"; and Deschutes "River Ale." Beer aficionados can find these new beers on sale with SaveOnBrew's newly launched feature: Beer Alerts.
"With Beer Alerts, you can fill out a quick form listing 5 of your favorite beers – or 5 beers you'd like to try – and we'll email you as soon as they go on sale in your area," explains SaveOnBrew founder Mark Davidson. "It's seriously that easy. In the past, shoppers had to visit our site to surf the deals, but now we let the beer lover just sit back while our alert system does all the bargain hunting for you."
Given the premium price tag on craft beer these days, using tools to find specials, sales and deals will allow consumers to drink quality beer and try more brands without breaking the bank.
"I do a lot of craft-your-own six-packs for $10 to sample different beers," admits SaveOnBrew writer Jennn Fusion. "But when it comes time to buy something I really like, it's a challenge to drink affordably. I agree with the Warsteiner slogan: Life is too short to drink cheap beer! So I use the Beer Alerts to find it on special."
Fusion says she recently cashed-in on a Memorial Day special that found bottles of Guinness as low as $1.08/each, which saved her $3 off the price of a 12-pack. "That's as good as any rebate," she says. "My Beer Alert is currently shopping around for me on brands like Brooklyn, Ayinger, Paulaner, and Victory – who has a very good 'Swing Session Saison' out right now. I'm lazy and can't always remember to check the site every week, so I'm really digging the new beer alerts."
Savvy beer shoppers can visit SaveOnBrew.com to sign up for free beer alerts.
# # #
About SaveOnBrew.Com: Founded in 2010 to help thirsty beer drinkers across the United States find the lowest advertised prices for one of the world's most popular beverages.