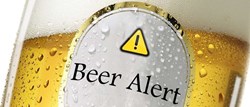 SaveOnBrew does the heavy lifting for you.
Houston, TX (PRWEB) August 19, 2013
SaveOnBrew.Com, the world's only beer price-search engine, announced a new feature called 'Beer Alerts.'
"This is just another step in our goal of being 'all things beer,'" explained Mark Davidson, Founder. "People love coming to the site to find beer deals, but some would rather just tell them when their favorite brands go on special."
Beer alerts took two years to develop. "We had the idea pretty early on, but, even though we've been doing this for three years, we still consider ourselves a start-up," Davidson explains. "These means that our projects don't always move along at the pace we'd like, but we think we've got a great level of polish on this one and it really delivers value to our customers."
Visitors to SaveOnBrew.Com first create an account. "You can actually enter two addresses. We envisioned one for home and one for work. Then you tell the system the search radius and the days of the week you want to receive the alert. Next, pick five of your favorites," said Davidson.
The system then searches through the deals and sends an email if your favorite beer is on sale.
"SaveOnBrew does the heavy lifting for you," explained Davidson.
Davidson said he hopes that SaveOnBrew becomes the ultimate destination for beer drinkers. "Beer Alerts is just one of our many services. We also offer the live beer-engine, where you can find deals all over the country, and we have an award winning blog pumping out some of the best consumer-oriented content on the internet."
# # #
About SaveOnBrew.Com: Founded in 2010 to help thirsty beer drinkers across the United States find the lowest advertised prices for one of the world's most popular beverages.