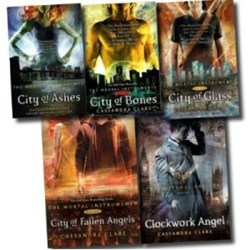 Leicester, Leicestershire (PRWEB UK) 15 August 2013
The Mortal Instruments five-book collection now available through Snazal Books contains the following popular titles: City of Bones, City of Ashes, City of Glass, City of Fallen Angels and the New York Times chart-topping prequel, Clockwork Angel.
Having sold over five million copies worldwide, the Mortal Instruments series has inspired a full-length film based on the book, City of Bones. The story follows the life of sixteen-year old Clary Fray – an ordinary Brooklyn teenager who is drawn into a mysterious and terrifying world of Shadow Hunters, secret warriors and demons after witnessing an otherworldly murder committed by a group of teens armed with medieval weaponry. As Clary faces her fears, she slowly begins to learn the truth about her family and the battle for the fate of the world.
Cassandra Clare's fantasy-thriller book collection is available through Snazal Books in advance of the release of the new Mortal Instruments film, which is due to hit cinemas on the 21st August 2013.
Snazal is a global book distributor, and supplies book stores and small businesses with an extensive range of titles from educational children's books to thriller novels and horror stories. The site allows customers to buy individual titles or titles in bulk, and features more than 2.2 million books.
About Snazal
Since 2006, Snazal has grown to become a worldwide book distributor, supplying independent bookstores and other small business venues with specially selected, handpicked titles. Snazal offers more than 500,000 books on a variety of topics, ranging from children's interests to history, to the general public and trade communities. To date, this UK-based supplier has worked with prestigious distributors and publishers to serve more than 1 million customers.