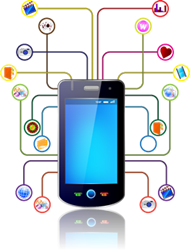 He who hesitates is lost.
Denver, Colorado (PRWEB) August 09, 2013
In 2014, mobile internet usage will overtake desktop internet usage, in 2011 more than 50% of all "local" searches were done from a mobile device. A business owner that does not take action to respond to this trend could quickly lose market share to the competition that has. The vast majority of businesses 1 Click Solutions has worked with over the past few years in the Metro Denver area have taken action by deploying a mobile website or custom mobile app and seen their businesses thrive.
Specifically, restaurants that offer carryout and delivery service to their customers that have recently signed up with the new Teburu Online/Mobile Ordering System have seen their sales volumes increase. With the economy still slower than most Denverites would prefer, many contain their dining expenses with carryout and delivery to avoid tips and the cost of drinks and desserts. Many established restaurants should take note of the age demographic that patronizes their establishment, if older people dominate the mix, mobile and online ordering is a sure way to attract a younger clientele that will become dine-in regulars once the economy improves just a little more.
Bounce rates on a desktop website viewed from a smartphone are growing by the day. Everyone hates to have to pinch and slide and wait for the information they want quickly and easily that mobile websites provide. A custom mobile app, while more expensive to develop and host, is critical for building brand loyalty from repeat customers in many industries. With just a touch of the icon for an app a customer downloads from iTunes or Google Play; reservations, appointments, bookings and purchases can be made with just a few touches and selections from a mobile device. It's a no brainer for a user, and a potential business killer for an owner that assumes his or her business is just fine and doesn't need to adapt to a quickly advancing technology that people love.
Remember that when it come to mobile, if it's not 1 click easy, it's not a 1 Click Solution.