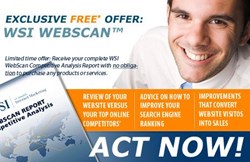 The Web Scan Report is a harsh testing tool for benchmarking and making improvements.
Denver, Colorado (PRWEB) August 12, 2013
With the advancements in technology and online strategies improving on a daily basis, it's important for businesses to regularly test their website's performance. All too often when surfing the internet for goods, services or information, we come across websites that are just plain horrible. The owners usually know it because they or someone else with little experience built it on the cheap and have placed a low priority on their web presence. They have no interest in website performance analysis, and sooner or later it will cost them dearly. Most business owners understand that their website is a reflection upon how they do business and take great pride in their digital showroom that is available to the whole world 24/7/365. You can get a very good clue to the quality of the information, goods or services a company delivers based on what they do in the digital realm.
With the rapid advancement of online technology, browser and search engine updates and the constant changes taking place, your website should get a regular checkup. The WSI Web Scan utilizes the same spiders and robots as the major search engines to perform over 60 tests. 1 Click Solutions in Denver Colorado offers local businesses these reports at no charge or obligation. It is suggested that you don't take a bad report to your current webmaster, and get in their face, but instead use the information to gain knowledge about the current performance of the website, ask good questions and use the information to make suggestions for improvements. In many small businesses, the internet work is done inhouse by a family member or close friend. Caution needs to be taken to avoid hurt feelings and the development of an adversarial relationship over the information revealed.
The WSI Web Scan Report is a harsh testing tool for benchmarking and making improvements. It's not rigged to deliver bad results, although it becomes painfully obvious that some websites need to be rebuilt and professionally developed for the desired ROI. The most common expectation of a website is to generate leads. If a site's search results are poor, no one will discover your website because very few internet users will click beyond the first page of the organic search results. Strong "calls to action" need to be part of the conversion architecture of the home page or landing page because the average view of a page is now 5 to 7 seconds. If someone searching for goods or services doesn't see what they want, or it's too difficult to find within your website, they hit the back button and you get what's called a high bounce rate and no online business.