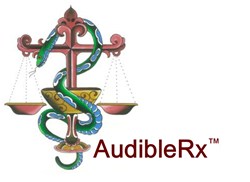 Digital audio counseling sessions offered by AudibleRx help patients and care givers clearly understand what they need to know about their medication.
Santa Cruz, CA (PRWEB) August 13, 2013
Patients do not always receive the medication counseling they need from their pharmacist when they pick up their prescription at their busy pharmacy or receive their prescription in the mail. Owned and operated by a community pharmacist, AudibleRx is acutely aware of all the necessary elements that comprise a complete medication counseling session with a patient. After listening to a Medication Specific Counseling Session on the AudibleRx website, a patient will have a clear idea of what they do and don't know about their medication and be in a position to take educated questions back to their own community pharmacist or doctor.
Beginning in 1990, the Omnibus Budget Reconciliation Act (OBRA 90) required that pharmacists counsel all patients with new or changed prescription medications. Not only does OBRA 90 require medication counseling by a pharmacist, it also describes all of the required elements that a counseling session must include. Unfortunately, many barriers get in the way of patients receiving medication counseling from their pharmacist, such as busy pharmacy counters, heavy work load for the pharmacist or patients receiving their prescriptions in the mail. Without complete medication counseling, it is difficult for a patient to be an effective partner in their own pharmaceutical care.
AudibleRx effectively bridges the medication counseling gap between the patient, their pharmacist, and their doctor. Medication Specific Counseling Sessions offered through the AudibleRx website are prepared and presented based on the OBRA 90 regulations. Digital audio counseling sessions offered by AudibleRx help patients and care givers clearly understand what they need to know about their medication. After listening to a session, a patient or care giver will be in a position to have an educated discussion with their health care provider about their pharmaceutical therapy.
It is important to understand that the recordings offered by AudibleRx are meant to supplement a patient's knowledge and understanding of their pharmaceutical care, they are not meant as a replacement for the invaluable face to face counseling session with their own pharmacist.
AudibleRx Medication Specific Counseling Sessions are available through an Individual Membership, which is reasonably priced at $14.95 for a full five years (that's only $2.99/year). Membership allows full access to all of the available Medication Specific Counseling Sessions for the life of the membership. Group Memberships, such as might be used as an employee wellness benefit or in a clinic or office setting are also available. For further details, or to register as a member or a group, please visit http://www.AudibleRx.com/.
About AudibleRx
AudibleRx provides OBRA 90 based Medication Specific Counseling Sessions in audio format with the intent of educating and motivating individuals to participate in their pharmaceutical care. AudibleRx, medication information you listen to.