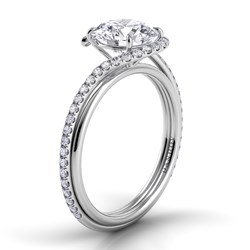 Los Angeles, California (PRWEB) August 31, 2013
Gold Pages, America's source for news about fine jewelry design and emerging industry trends, announces the top two engagement ring designers made in the United States. No stranger to accolades, Uneek Jewelry, and Danhov topped the list with their innovative styles, creative vision and attention to excellence. Both Danhov and Uneek design and manufacture their fine diamond jewelry in the USA with unmatched craftsmanship and designs.
Uneek Jewelry – Founded in 1997, Uneek fine jewelry has become an unrivaled standard of excellence in fine diamond jewelry. Guided by Benjamin Javaheri, Uneek's signature style boasts a flawless combination of American culture and the delicacy of old world metalsmithing techniques. Known best for their collection of natural fancy colored diamonds and uncompromising craftsmanship. Uneek marries today's design trends with the art of jewelry making established centuries ago, resulting in stunning platinum and gold unique diamond creations.
Danhov Jewelry – Khajag "Jack" Hovsepian established Danhov in 1984 with a goal of revolutionizing the existing jewelry industry. Since that time, Danhov has won numerous awards for jewelry design by imbuing each piece with beauty, clarity and the innovation born from decades of expertise. Danhov is known for their complete handmade jewelry which involves only gold wire which is twisted to create beautiful engagement rings such as their award-winning Abbraccio collection. When perfect harmony and unique design is a must, only Danhov will do.
About Gold Pages:
When the simple idea of keeping the world informed about the latest jewelry industry news met the technology of the Internet, Gold Pages was born. With no fuss and no muss, Gold Pages helps jewelry-lovers across the globe stay abreast of what's hot, what's not and what's trending. Gold Pages is the world's number one stop for all current news about jewelry designers from all over the world. Visit http://www.gold-pages.com or https://www.facebook.com/pages/Gold-Pagescom/155321487996288 for the companies Facebook Fan Page.