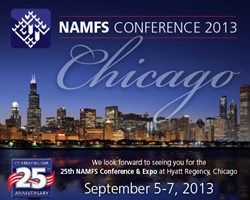 Stow, OH (PRWEB) August 27, 2013
The National Association of Mortgage Field Services (NAMFS) is pleased to announce the 2nd annual Gives Back event being held at the 2013 NAMFS XXV Conference and Expo in Chicago, Illinois on September 5, 2013. This conference is the premier educational event for mortgage field service professionals, drawing hundreds of delegates each year. For NAMFS industry partners and related organizations, this event is an unparalleled opportunity to network and learn.
This year NAMFS is pleased to partner with the Franciscan Outreach of Chicago. Franciscan Outreach is one of the oldest and largest providers for men and women who are homeless in the Chicago area. From offering refuge from the streets, to feeding the hungry, to helping individuals build a better life, Franciscan Outreach is a lifeline to thousands in need each year. Approximately 125 NAMFS conference attendees will be helping to clean, paint and do repairs at two Franciscan Outreach facilities to support their efforts.
Franciscan Outreach welcomes everyone, regardless of background or religious affiliation, and are treated with the dignity and respect they deserve. Their programs and sites include a 257-bed Franciscan House at 2715 W. Harrison and the 65-bed Franciscan Annex at 200 S. Sacramento on Chicago's West Side. Both are overnight facilities with showers and a kitchen. Guests are served supper when they arrive in the evening and breakfast in the morning before departing. There is a free medical clinic and visits by mental health workers. The Marquard Center dining room in the Wicker Park/Bucktown community serves well-balanced dinners every evening. We provide guests with a mailing address, shower facilities and the city's only free drop-off laundry service. There is also access to medical and legal services at this location.
At the request of the City of Chicago, Franciscan Outreach recently launched a day program at the Community Service Center at 10 S. Kedzie. They offer structured activities, learning opportunities, and case management services to guests, many of whom spend their nights at Franciscan House and Franciscan Annex. Their case managers help guests access a wide variety of critical services - substance abuse counseling, government assistance, life skills and vocational training, employment, and housing. Case managers reach out to guests at the shelter, Marquard Center, and day program, as well as serving the homeless population in downtown Chicago from St. Peter's Church in the Loop.
About NAMFS
The National Association of Mortgage Field Services, Inc. (NAMFS) is the premier trade association for the mortgage field service industry. We are dedicated to working with all entities of the industry from the Government Agencies and investors that set policy to the contractors and inspectors that perform the work.