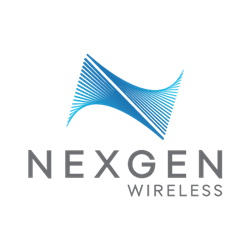 Schaumburg, IL (PRWEB) August 30, 2013
Nexgen Wireless announced today that it has launched a new company logo, the first re-design since its founding in 2000. This launch represents the first step in the companies rebranding, which will be rolled out over the next several weeks.
The rebranding of the company comes at a time when Nexgen Wireless has been experiencing explosive growth in both its software and services sectors. "The new logo is symbolic of our commitment to providing quality products, outstanding customer service as well as our continuing determination to be a leader in wireless telecommunications," said John Thakkar, President and CEO of Nexgen Wireless. "This is the first step in our re-branding the company as we expand our engineering services and introduce exciting new software offerings in the coming weeks."
The previous logo was created upon the founding of Nexgen Wireless in 2000 and has served the company for more than a decade. During that period, Nexgen Wireless has amplified its value and relevance to its customers by combining its Mobile Meridian software suite and highly experienced engineering services to deliver quantifiable results.
To learn more about how we can help you with your next project visit our website at http://www.nexgenwireless.com or give us a call at (847)874-7050 and one of our team members will be happy to assist you!