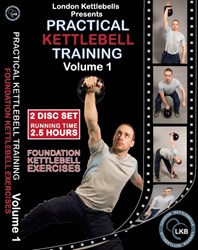 Customers internationally can now change their lives in a very short time and with lasting results.
Cambridge (PRWEB UK) 8 August 2013
One thing that many trainers have noticed over recent years is how fitness is unfortunately viewed by many people as a luxury item that is expandable. When the economy is uncertain and people start to work longer hours, with living costs increasing, fitness is usually one of the things we can "do without". Gym memberships get cancelled, personal training sessions cease, or reduce in number, and people begin to drop out of class based sessions. The bottom line is they end up too busy being busy and fail to prioritise just how important exercise is for health and well-being. The kettlebell fat loss DVD solves many of these problems and has changed many lives in the process.
Kettlebells have become increasingly popular with gyms and home users based on convenience and how versatile they are for achieving training goals. Just swinging a kettlebell works about 80% of the muscles in the body, strengthens the lower back, is very joint friendly, improves the heart and lungs and also burns fat at a rapid rate – all while you stay on the spot!
Stephen Aish has produced an Amazon best-selling kettlebell fat loss DVD that has helped thousands of people lose weight from their own home safely across the UK. There are no quick fix diets that will damage metabolism and no insane workout routines to leave people on the floor in pain. The DVD is very unique as it is still one of the few on the market that is both technical masterclass and full body training workout package in one product. The DVD consists of 2.5 hours of information for less than half of the price of a PT session.
"I have lost 5kg each month and dropped 3 stone to achieve my target weight!" - UK customer.
Disc 1 contains an overview of which weight to start with, a warm up and stretching session followed by a complete technical breakdown of all basic exercises in split screen detail. This ensures complete confidence in performing the movements correctly and has even been used by personal trainers and coaches for improving their teaching and technical understanding of kettlebells.
Disc 2 contain 7 different follow along workouts with varying difficulty so you can exercise from as little as 5 minutes with the swing test to 15 minutes and beyond by attempting the full body workout, or adding 2-3 workouts back to back.
Fitness is no longer something out of reach and hindered by time and price. Amazon will ship to your door in a few days and you just have to press play and let the kettlebells work their magic.
A free guide is included to help those starting out with kettlebells select the correct weight.