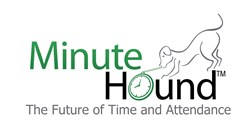 Companies lose so much money due to time-keeping errors and mishaps. MinuteHound's biometric technology fixes all of this.
New York, NY (PRWEB) August 01, 2013
Now is the time to make some changes because it marks a semi-halfway point through the year. On January 1st, companies and businesses made promises to themselves to revitalize their time-keeping system. Now, they can make those promises come into reality as MinuteHound has released new attendance software.
Companies lose so much money due to time-keeping errors and mishaps. With these extra funds, the businesses could greatly expand their customer base and develop new and improved products. MinuteHound makes it virtually impossible for errors to arise. With the use of fingerprint technology, employees are no longer able to swipe into and out of work for one another. The results displayed are the accurate ones. Additionally, scanning in and out of the system takes just a couple of seconds, so time is not lost on either end of the spectrum.
For many industries, business is booming in the summer as people have more time to shop, mid-year bonuses to make purchases and plans to buy plenty of items for their vacations. Clearly, simplicity is key for companies that want to implement new software. MinuteHound's recently released devices are plug-and-play, so no complex instructions exist. The scanner can begin performing its tasks shortly after it arrives on site. If a question, concern or issue does arise, staff members are available 'round the clock to provide assistance to ensure that the system is always functioning at its optimal level.
With all of this extra business in the summer, keeping track of employees can be challenging for even the most well-trained of managers. Fortunately, this latest software helps with this issue as well. When an employee does not sign-in for a scheduled shift or when he or she leaves early, a designated party receives a text message or e-mail from the MinuteHound system. Before a sale can be lost or a customer question can go unanswered, the manager can step in to fill the slot or can find a replacement for the time-being.
Since sales are booming, businesses want to see their profits and use their money to better the company. While implementing a new time-keeping system is an important part of that, they need not spend all of their funds. These systems are tailored to the size of the company, and they do not cost a hefty sum at all. Truly, those half-year promises can be kept.
MinuteHound Contact Information
Website: http://www.MinuteHound.com
Email: info(at)MinuteHound(dot)com
Phone: (800) 351-7237