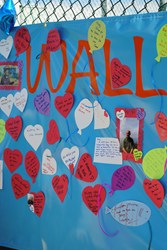 "I've been a Walk for Hospice logistics volunteer for the past six years. My mom was cared for by Center for Hospice Care two years ago. She believed in CHC's mission and was also a volunteer for several years," 2013 Chair Nick Korody.
Mishawaka, IN (PRWEB) August 09, 2013
Some walk in memory of a loved one who has recently passed away. Some walk in honor of a current Center for Hospice Care patient. Some walk to support Center for Hospice Care's mission to provide compassionate, skilled care to anyone eligible for hospice care, regardless of their ability to pay. This year, the 28th Annual Walk for Hospice moves to Mishawaka's scenic Riverwalk.
The Riverwalk, officially named the "River St. Joseph of the Miamis Trail," is a beautifully landscaped, handicap-accessible pathway on both banks of the river with pedestrian footbridges connecting city parks. A new addition to the scenic Riverwalk this summer is the new Center for Hospice Care Mishawaka Campus, which opened on July 1, 2013.
Walkers will not only be able to take advantage of the new Robert C. Beutter Riverfront Park, where registration and the start and finish line will be located, but also have the opportunity to tour Kamm Island Park, Kate's Garden and Battell Park along the route. Registration will begin at 11:30am with the walk beginning at 1:00pm. For walkers curious about the new CHC campus, there will be an open house following the walk. The campus is a short walk from Beutter Park. On-site parking is available as well. Visit the event web site, http://www.walkmichianaforhospice.org, for more information or to register.