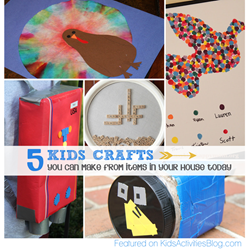 Fun craft ideas make perfect summer break activities at home.
Dallas, Texas (PRWEB) August 01, 2013
Busy kids make happy moms with simple and easy kids crafts and fairy crafts. These craft ideas can be easily done with items found around the house.
The craft ideas include fun duct tape projects. Make hats, flowers, even a jet pack with some duct tape, cereal boxes or an empty canister. Another craft uses simply kid's fingerprints to make all sorts of fun shaped animals on a large canvas. These fun fingerprint crafts make keepsakes for years to come.
How about building a colorful coffee filter turkey? A few coffee filters, markers and construction paper is all the kids need to make a cool tie-dye turkey. Making a bank out of empty Pringles cans is another kids favorite craft.
If you have a scrabble game that has not been played with very much consider revamping it into a new beautiful scrabble craft.
Other ideas include building whimsical fairy crafts out of champagne corks. Simply cut and color the corks according to the template provided on Kids Activities Blog. The whimsical fairy scene will make a great outdoor scene for any fairy type pretend play.
For detailed instructions and to get additional fun craft ideas for kids, check out Kids Activities Blog this week. Come get inspired to let the kids have fun with simple crafts at home.
About Kids Activities Blog
Kids Activities Blog is a website created by two moms (who collectively have 9 children), Rachel Miller and Holly Homer from June Cleaver Nirvana. It is their daily goal to inspire parents and teachers to play with kids. This interactive website publishes simple things to do with kids twice a day. Kids Activities Blog is a great tool for moms and teachers to find kid-friendly activities that create memories and sneak learning into the fun.