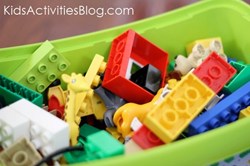 Let the child's imagination roar by building a Greek Labyrinth.
Dallas, Texas (PRWEB) August 03, 2013
The best kid tested and Mom recommended LEGO activities have been published on Kids Activities Blog. LEGO playtime is not only about building amazing creations but it can be so much more.
The LEGO activities range from building amazing mazes, to Greek Labyrinths, to playing all sorts of word games. Learning shapes, colors, counting, and math is extra fun using LEGOs.
Simply set up a large LEGO bin and give the child instructions to sort, gather, put in order, and stack according to color, shape, size, and by number. Writing letters with markers on the side of LEGOs and letting the child build word towers is one of the ingenious ideas to teach sight words.
Another great idea is building a Greek Labyrinth and to let the kids have fun in the world of Greek myths. Materials needed for this LEGO activity are a Minotaur figure, a string, Theseus or a figure representing him such as a lion, LEGOs, and Greek Myths books such as Usborne's Greek Myths for Young Children. Either build a random maze or let the child copy a pre-made maze. Add the Minotaur, a string, and Theseus to the maze and let the child's imagination roar.
For detailed instructions and to get additional fun LEGO activity ideas, check out Kids Activities Blog this week. Come get inspired to let the kids have lots of creative fun playing with LEGOs.
About Kids Activities Blog
Kids Activities Blog is a website created by two moms (who collectively have nine children), Rachel Miller and Holly Homer from June Cleaver Nirvana. It is their daily goal to inspire parents and teachers to play with kids. This interactive website publishes simple things to do with kids twice a day. Kids Activities Blog is a great tool for moms and teachers to find kid-friendly activities that create memories and sneak learning into the fun.