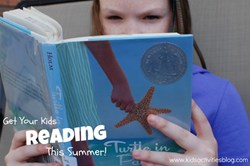 Pick up a book and start reading together with the kids.
Dallas, Texas (PRWEB) August 04, 2013
Get your kids reading this summer with tips by seasoned moms on Kids Activities Blog. Parent child reading time can be great bonding time and can be a time to connect with each other.
Books cover a vast range of topics. Do not force the child to read any books that they do not want to read. Instead, let the child dictate his or her reading. Ensure that the books are appropriate for reading and age level. Ensure that they are the major part in making the book choices.
Signing up for local summer book clubs at the local library or book stores, having an established reading time every day and sticking to it, reading some of the same books together and discussing them will ensure plenty of reading time.
Other tips include reading a book then watching the movie, reading on road trips, hosting a book swap, combining activities with reading books, and setting a reading goal for the summer are only some of the fun ways to get kids to read.
Establish a parent child reading club this summer. Read books together and set time to discuss them. Reading together makes for great family bonding time.
For detailed instructions and to get additional reading tips, check out Kids Activities Blog this week. Come get inspired to get the kids ready for back to school.
About Kids Activities Blog
Kids Activities Blog is a website created by two moms (who collectively have 9 children), Rachel Miller and Holly Homer from June Cleaver Nirvana. It is their daily goal to inspire parents and teachers to play with kids. This interactive website publishes simple things to do with kids twice a day. Kids Activities Blog is a great tool for moms and teachers to find kid-friendly activities that create memories and sneak learning into the fun.