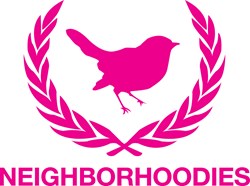 We are excited about the move as it will enable us to better serve our customers and to facilitate future growth.
Plantation, FL (PRWEB) August 05, 2013
Neighborhoodies, Inc., an established custom-made apparel company specializing in custom hoodies and custom t-shirts, announces a change in ownership and relocation of its corporate office from Brooklyn, NY to Plantation, FL. Now part of the UA Brands family, Neighborhoodies, Inc. is backed by more than 20 years of proven success in the retail apparel industry.
Since its inception, Neighborhoodies has empowered customers to create their own apparel brand with individualized messaging and graphics, right down to the details, including choice of colors and fonts. What sets Neighborhoodies apart is the superior shopping flexibility. Customers can upload their own graphics, choose one of the stock images, or shop the "readymade" collection. Customizations can be made on items like onesies, t-shirts, undies, hoodies, bras, hats and more, using embroidery, appliqué, heat-pressed or printed techniques.
"The move is an all-around upgrade for us as a company. We credit our success to our loyal customers and our ability to provide them with limitless apparel personalization and customization options so that they can best express their unique style. We are excited about the move as it will enable us to better serve our customers and to facilitate future growth," said Johnnie Powell, new Brand Manager of Neighborhoodies, Inc.
The new ownership brings fresh leadership, talent, and innovative ideas to Neighborhoodies, Inc. with the ultimate goal of providing existing and future customers with an outstanding product and improving their shopping experience. To accomplish this goal in the coming months, customers can expect to see upgrades in the website and telephone system, enhanced customer service support, increased product offering, and additional customization options.
"We are ready to hit the ground running at Neighborhoodies, Inc. We are eager and prepared to work very hard to implement these corporate advancements and to prove our ability to handle any size order, from individual customers to our high-profile corporate clients," said Johnnie.
For more information or to place an order, please visit the Neighborhoodies web site at http://www.neighborhoodies.com or call 888-818-9909.
About Neighborhoodies
Neighborhoodies, Inc. is a leading apparel customization company now based out of Plantation, Florida. Founded in 2002, they premiered the "Your Hood on Your Hoodie" concept, offering customers a way to proudly represent their borough or local municipality, with hand-stitched, supreme quality sweatshirts that featured their neighborhood emblazoned across the front.
The company has grown to now serve U.S. and international customers 24/7 through their website http://www.neighborhoodies.com.
Media Contact:
Johnnie Powell
Brand Manager
info(at)neighborhoodies(dot)com
150 South Pine Island Road Suite 300
Plantation, FL 33324