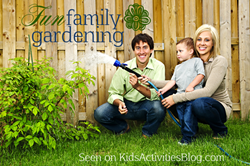 Gardening projects make a great bonding time for the whole family.
Dallas, TX (PRWEB) August 07, 2013
Fun family gardening projects together with fun things to do outside have been published on Kids Activities Blog. These projects are perfect for family bonding time outside. Family gardening is a fun way for the whole family to get outside and enjoy a hobby together.
There are many different types of gardening to choose from. Planting vegetables for harvesting or planting fragrant flowers are just some of the fun things to do with the kids. No matter what the family decides to plant, get out, get dirty, and have fun.
Making a fairy garden is one of the fun things to do outside with the girls. Simply upcycle some things from around the house to create a lovely little pretend garden for the fairies to visit. Making a potted garden is another gardening idea that will make also a perfect gift for family and friends.
If an outdoor garden is not an option, try staying indoors and make a mushroom garden. This idea is super fun and tasty, too.
Other fun things to do outside include building backyard volcanos, making a giant mud pit that will create lasting memories for years to come, creating a snail garden, and making a floating flower display.
For detailed instructions and to get additional fun outdoor activity ideas, check out Kids Activities Blog this week. Come get inspired to have lots of fun doing gardening projects with the kids this summer.
About Kids Activities Blog
Kids Activities Blog is a website created by two moms (who collectively have 9 children), Rachel Miller and Holly Homer from June Cleaver Nirvana. It is their daily goal to inspire parents and teachers to play with kids. This interactive website publishes simple things to do with kids twice a day. Kids Activities Blog is a great tool for moms and teachers to find kid-friendly activities that create memories and sneak learning into the fun.