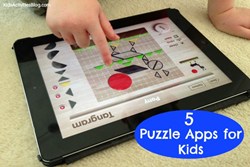 Seasoned Moms are sharing their best educational apps for kids this summer.
Dallas, TX (PRWEB) August 08, 2013
Summer travel means keeping kids busy until the destination has been reached. The Puzzle App Top 5 list for kids and the Book App Top 5 list do exactly that and more. These mom recommended apps keep kids engaged, quiet and they even sneak in learning opportunities. A perfect win-win combination for the whole family.
Puzzles are a great way for kids to learn about shapes and sizes. They foster problem solving skills, spacial awareness, and even creativity. The list of fun kid tested puzzle apps includes Shapes And Puzzles by Pirate Trio, Shape Builder The Preschool Learning Puzzle Game from Darren Murtha Design, Transport Jigsaw 123 from Giggle App Kids, and Tangram Puzzles from PopAppFactory.
Book apps can really bring a book to life. They are great for kids who do not like to sit still for a long time. They provide interactive reading fun and the best ones offer lots of opportunities for extended learning.
The list of best book apps includes The Monster At The End Of This Book by Sesame Street, Don't Let The Pigeon Run This App from Disney, and The Heart And The Bottle from Penguin Group USA. These apps have so much to discover, and the pictures are so engaging that the kids will be occupied for hours.
For detailed instructions and to get additional fun apps for kids, check out Kids Activities Blog this week. Come get inspired to let the kids have fun playing educational apps this summer.
About Kids Activities Blog
Kids Activities Blog is a website created by two moms (who collectively have 9 children), Rachel Miller and Holly Homer from June Cleaver Nirvana. It is their daily goal to inspire parents and teachers to play with kids. This interactive website publishes simple things to do with kids twice a day. Kids Activities Blog is a great tool for moms and teachers to find kid-friendly activities that create memories and sneak learning into the fun.