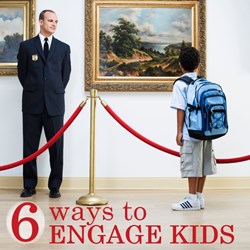 Let the kids record the trip to the museum or let them dress up for the museum.
Dallas, Texas (PRWEB) August 16, 2013
Are the kids ready to explore the museum? Seasoned Moms are sharing their best ways to engage kids at museums and their kids favorite playtime ideas.
Fun activities that engage kids while they are discovering or exploring the museum include bringing a microphone and a fun prop. Ask the kids to put themselves in the scene at the exhibit and interview them. They will have a blast while being center stage during the visit.
Another fun idea is helping the kids learn to observe closely by playing the I Spy game. Other tips include dressing up in character with the exhibit, preparing the kids with note cards to ask the curator, or playing the speed see game.
Over 100 fun playtime tips have been published on Kids Activities Blog that include yummy homemade ice cream dough, mulitcolored cloud dough, creative small worlds, a gallery of magic dissapearing shapes, a construction sensory table, DIY homemade piggy banks, a Pringels can race car manual, and a fizzying volcano sensory bin.
For detailed instructions and to get additional museum tips or fun playtime ideas, check out Kids Activities Blog this week. Come get inspired to sneak in a bit of learning while having a blast.
About Kids Activities Blog
Kids Activities Blog is a website created by two moms (who collectively have 9 children), Rachel Miller and Holly Homer from June Cleaver Nirvana. It is their daily goal to inspire parents and teachers to play with kids. This interactive website publishes simple things to do with kids twice a day. Kids Activities Blog is a great tool for moms and teachers to find kid-friendly activities that create memories and sneak learning into the fun.